As the other parts of Assam are getting prepared to celebrate Rongali Bihu, the people of Silchar as well as the entire Barak Valley are getting prepared to welcome the new Bangla year i.e., popularly known as Nababarsha on Sunday next.
On Saturday, the first day of the new Bangla year will be observed as Chaitra Sankranti. Many cultural programmes will be organised all over the Barak Valley during the festive days.
Recently, Silchar passed through communal tensions. So, the district administration of Cachar has remained alert to avoid any kind of untoward incidents during the festive days.
On Wednesday, the Cachar district administration held a meeting with distinguished citizens of the town to discuss the current situation in Silchar.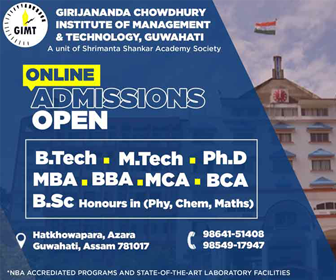 In this meeting, recent communal tension got priority and the Cachar district administration stated that the tight security arrangements have been arranged so that no untoward incident takes place during the Nababarsha programmes.
The meeting, chaired by Cachar Deputy Commissioner S Laxmanan, was also attended by DIG, Assam, Debraj Upaddhaya, Cachar Superintendent of Police (SP) Rakesh Roushan and others.
The top police officials claimed that the communal tension in Silchar has calmed down and the situation is normal now.
Meanwhile, DIG Upaddhaya stated that the Police Department has been asked to gather all sorts of information regarding the activities of three organisations – Cachar Pratibadi Manch, Bajrang Dal and Hindu Sanghati – as these organisations were allegedly involved in disrupting normal life and spreading violence in the town.