Taking out time from a busy election campaigning schedule in Tripura, Assam's health minister Himanta Biswa Sarma on Friday assured the state's beleaguered tea industry that the Tata Group has "no plans" to wriggle out of plantation business in Assam.
It was reported that the Tata Global Beverages Ltd (TGBL) was planning to divest about 41 percent of its stake in one of its subsidiaries, the Amalgamated Plantations Private Ltd (APPL), and the Dhunseri Tea & Industries Ltd (DTIL) was keen to lap up the offer.
The APPL is the second largest tea producer in India, and has 21 tea gardens and other allied agri-businesses in Assam. It produces around 43 million kg of tea a year, of which 26 million kg is made from its own tea crop. It also has four tea gardens in Dooars in North Bengal.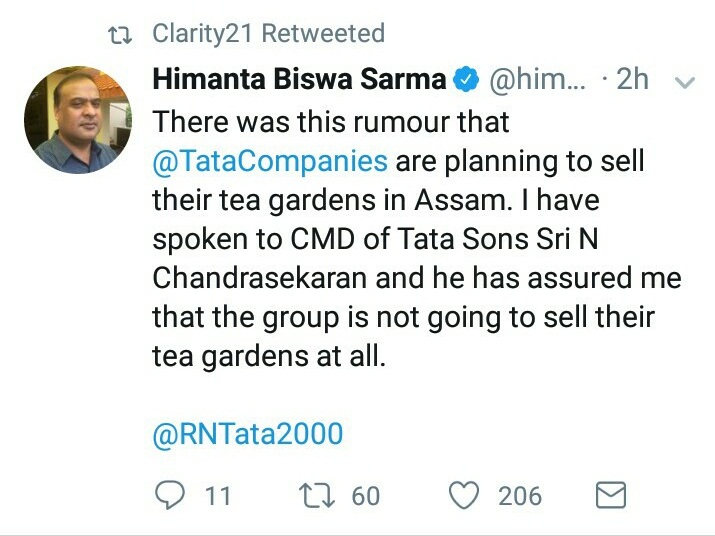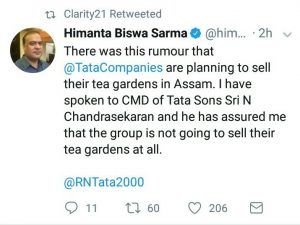 On Friday afternoon, Himanta Biswa Sarma tweeted about the TGBL's divestment reports. "There was this rumour that @TataCompanies are planning to sell their tea gardens in Assam. I have spoken to the CMD of Tata Sons Sri N. Chandrasekharan and he has assured me that the group is not going to sell their tea gardens at all," he said in the tweeter message.
Sarma has tagged his twitter message to @RNTata2000, the official twitter handle of Ratan Tata. He has also posted the same message in his Facebook account.
It is not sure as to why Sarma had to make the voluntary statement on TGBL's divestment reports during his busy campaigning schedule. He is BJP's election convener for Tripura, and has vowed to root out the Left Front government led by Manik Sarkar from the state.
During the last few days, Sarma travelled through the length and breadth of Tripura to campaign for the BJP. Even Prime Minister Narendra Modi addressed two election rallies in Tripura on Thursday with the slogan, Chalo Paltai (Let's Change). The axiom has apparently been borrowed from a 2011 Bengali film based on the lives and desires of the present generation children by Haranath Chakraborty.
According to a large section of people in the tea industry, the official statement on Tata Group's divestment in Assam's tea industry should have come from the state industries minister Chandra Mohan Patowary or Chief Minister Sarbananda Sonowal, and not from the education and health minister.
Also read : Why is Tata Global Beverages Ltd desperate to give up tea plantations in Assam?
Interestingly, neither the TGBL management nor the APPL officials have denied or commented on the reports on divestment. The TGBL has reportedly floated the price of Rs 1,300 crore for the 41 percent divestment in APPL.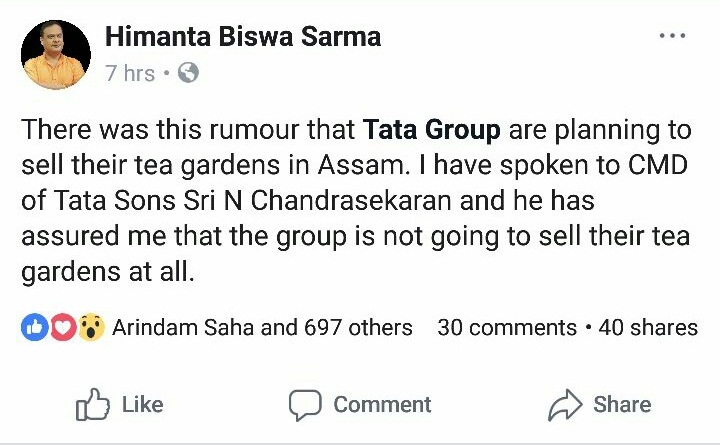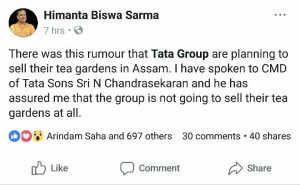 But, why will the TGBL not sell its stakes in APPL? It has incurred a loss of Rs 85 crore during the last three years, and the loss in 2016-17 was as high as Rs 49 crore. Moreover, the APPL is under pressure due to high cost of production of tea in Assam.
Assam government's "pressure" for payment of minimum wages to plantation workers over and above other benefits provided under the Plantations Labour Act has made the cost of production of tea much higher. It is also mandatory for every tea estates to have a welfare officer and medical officer.
Almost all the tea companies in Assam are under pressure because they need to provide "free education and healthcare" to the plantation workers, and also need to provide essential commodities like rice, atta and other commodities at subsidized rates. The tea garden labourers are not covered under the PDS.
Faced with spiraling cost of production and competition from bought leaf factories (BLFs), the other estate holders in Assam are exploring the possibility of converting a part of their plantation land for activities other than growing tea to contain the falling profitability.
The Indian Tea Association (ITA) had also appointed a consultant to study the alternatives for the large estate holders to control falling profitability, while retaining the existing labour force. Wages and employee benefits account for around 50 percent of a garden's annual expenses.
Despite being the world's second largest tea selling company, the TGBL is surprisingly on a divesting spree. TGBL's share price in the NSE on Friday fell by Rs 1.80 (0.64 percent). In December 2017, the TGBL sold its 31.85 percent stake in the Watawala Plantations in Sri Lanka for Rs 120 crore. It also sold its tea and coffee businesses in Russia and China in August 2017.