Saying that the state government is making concerted efforts to develop the education sector in the state so that the slogan of education for all can become a reality soon, Chief Minister Sarbananda Sonowal on Thursday said to excel in today's competitive world the students must be provided with a holistic educational environment for realisation of their potential.
Speaking at the closing ceremony of golden jubilee celebration of B.H College at Howly, Barpeta, Chief Minister Sonowal said the historic college has completed a colourful journey of 50 years in which it has immensely contributed to the higher education sector of lower Assam and it has strengthened the unity among various communities of the state.
Urging the young generation to work for preservation of cultural heritage and natural resources of the State, Sonowal stressed upon the importance of imbibing the competitive spirit for excelling in the global arena.
Terming teaching as a great profession, the he urged the teachers to take a proactive role in building human resource for the nation. He also cited examples of programmes like Gunotsav and Arohan to illustrate the efforts of the government to transform the education sector.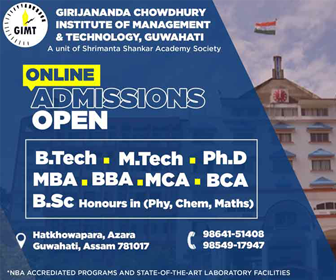 Saying that Assam is the land of great personalities like Sankardev, Ajan Fakir, Lachit Barphukan, Jyotiprasad Agarwala, Bishnu Prasad Rabha, Bhupen Hazarika et al, Sonowal called on the people to follow the ideals of these greats to give a strong impression of the state at the global arena. Harmony not conflict is the need of the hour and for a society to progress a peaceful environment is a must, he stated.
Quoting the lines of Jyotiprasad Agarwala's song 'Biswa bijoy najawan', Sonowal urged the students to strive for achieving developed society through hardwork and dedication.
Saying that the government has taken initiatives to keep the pristine natural beauty of the state intact, Sonowal stated that there are plans in the offing to turn the efforts to preserve the environment into a mass movement.