A trekker driver and a handyman were arrested by Dispur Police for their alleged involvement in looting an Israeli tourist, Kohen Neer, in Guwahati's Khanapara area on Saturday night.
As per reports, the accused Buman Saikia and Dipankar Saloi snatched a bag from the tourist's possession at Khanapara area.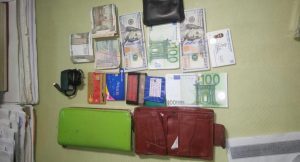 On the basis of a police complaint lodged by the tourist, a case (No 1154/184) was registered under Section 379 of the Indian Penal Code (IPC) at the Dispur Police Station and the the police were able to arrest the accused.
Three ATM cards, an amount of Rs 14000 in cash, 200 Euro and 200 Dollars were recovered from the possession of Buman Saikia and Dipankar Saloi.
The 27-year-old tourist arrived at Guwahati on April 26 and spent a night in one of his friends' house near the Guwahati Refinery at Noonmati in the city.
The Israeli youth was looted by the trekker driver and handyman at around 9 pm on April 27 when he was about to travel to Majuli island.