BJP supporters in poll-bound Meghalaya and Tripura burst into joy as the reports of party's victory in Gujarat and Himachal Pradesh started pouring in. Elated supporters glued to the TV sets since morning and started dancing and smearing colours on the face of each other when the TV channels showed the much-awaited news of victory of the party in Gujarat and Himachal Pradesh.
The BJP in poll-bound Meghalaya is upbeat over its victory in Himachal Pradesh and Gujarat Assembly elections.
The visit of Prime Minister, Narendra Modi and victory in the two states came as a double booster for the BJP in Meghalaya which has no MLA in the present ninth Meghalaya Assembly.
"Our party's victory in Gujarat and Himachal Pradesh will have great impact on Meghalaya as we go to the Assembly elections next year and the results in the two states have proved that people are in favour of change which is a change for development, " Meghalaya BJP president, Shibun Lyngdoh said on Monday.
According to Lyngdoh, the visit of the Prime Minister will further boost the confidence of the people and who will vote for the BJP in next year's election.
As a mark of joy, a celebration was also organised at the newly built BJP office here.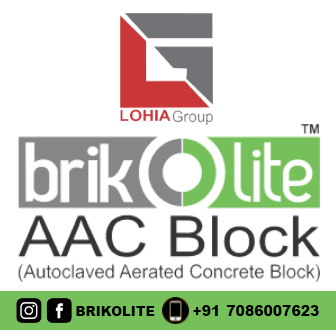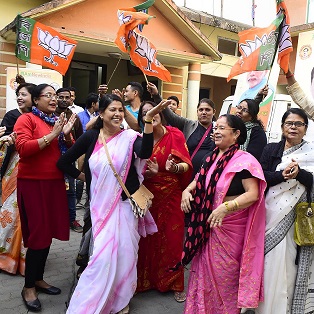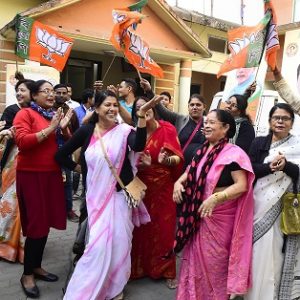 The term of the current ninth Meghalaya Assembly will expire on March 6, 2018 and the election to the tenth Assembly in February-March next year.
In Tripura BJP supporters took out a procession following the news of party's victory in Gujarat and Himachal Pradesh assembly elections. The BJP supporters started beating drums and dancing on the streets of Agartala. The state is going to polls in early next year.
The scenario was same in BJP ruled Assam. BJP supporters celebrated party's victory in Gujarat and Himachal Pradesh. Upbeat over the victory, supporters started gyrating with the tune of Bihu songs in state party headquarters in Guwahati.
Assam Chief Minister congratulated the people of Gujarat and Himachal Pradesh for the party's victory in the elections. He twitted, "Today you are the winner for choosing development over divisive politics and false promises. The election results reflect the aspirations of millions truly represented by BJP."