Widespread condemnation and protests continue against the brutal daylight killing of Mrisanka Basumatary, a BA first semester student of Tangla College in the outskirts of Tangla town in Udalguri district of Assam on Tuesday evening.
The failure of the police and district administration to nab the culprits involved has invited the wrath of All Bodo Students' Union(ABSU) in particular and the entire students' community in general.
Also read: Assam: Day-light murder of 19-year-old college youth rocks Tangla
The Udalguri district committee of ABSU and Tangla Anchalik Committee of ABSU along with Tangla College Students' Union (TCSU) hit the streets of Tangla town on Thursday demanding justice for the bereaved family and immediate arrest of the culprits involved in the heinous crime.
The vehicular traffic was disrupted on the Mangaldai-Bhutiachang, Tangla-Bhergaon road following the massive protest rally joined by hundred of school and college students along with activists of ABSU.
The protests, which started around 1 pm, had an overarching presence of students who shouted slogans by holding up placards.
Addressing the protesters, general secretary of Udalguri unit of ABSU, Anup Daimari strongly condemned the horrific incident.
He expressed strong resentment on the fact that if locals are not safe how will the other students of the town who hail from far-flung places be safe and secure.
"The pro-active role by the district administration and police forces in apprehending the accused in Dokmoka lynching is also expected in the incident which is no less heinous," said Daimari.
The student leader further lamented that though more than 36 hours have passed and the culprits have been identified, yet the police have miserably failed to nab them.
He maintained that the culprits should be brought to book and no leniency should be exhibited in dealing with the incident, and served 48 hours ultimatum to the government.
He also threatened to declare BTAD bandh and Assam bandh and intensify the protest if the police fail to nab the culprits within the ultimatum served.
The general secretary of TCSU, Uttam Joy Basu, Udalguri ABSU president, Ratendra Daimari jointly submitted a memorandum to Deputy Commissioner of Udalguri, Dilip Kumar Das through the office of Harisinga Revenue Circle Office, Tangla.
Harisinga Revenue Circle Officer (Attached), Kartik Kathar appealed the protestors to keep faith in the judicial process and assured of action against the culprits.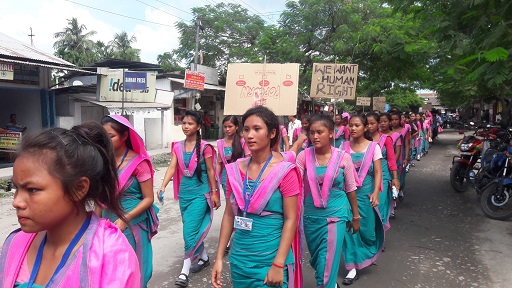 The memorandum naming Pradip Barman, Boloram Sarkar,Dilip Das, Sanjay Das and Biplob Ghosh as the prime accused demanded immediate arrest and appealed the administration to ensure for the safety and security of the students.
The students' body also exhorted the government for compensation to the family members of the deceased.
The president of Udalguri district committee of Bodo Sahitya Sabha, Kameswar Boro, have also condemned the incident and demanded arrest of the culprits.
Meanwhile condolences and pleas for justice have been flooding social media since the news broke.