The recent incident of mob lynching of two artistes from Guwahati at Panjuri Kachari village under Dokmoka Police Station in Karbi Anglong district has received widespread condemnations across the State.
Rising Hands, a local NGO in association with National Jr Pioneer College Alumni Association joined hands with locals in the statewide protest against the incident and lit candles and earthen lamps in memory of the deceased at Tangla Chariali of Udalguri district on Monday evening.
Candles were lit in front of portraits of the deceased, Nilotpal Das and Abhijeet Nath and prayers were offered by a large number of college students and citizens of the town.
Tangla Traffic In-charge, Mukut Ali, while terming the ghastly incident as an unfortunate act, exhorted young generations to keep faith in the police administration and urged not to take law in own hands.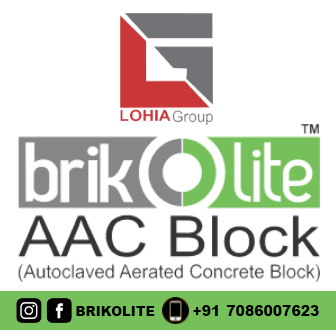 Ali further stated that if any such suspicious persons are spotted police should be informed.
He also appealed to the people not to pass hate comments on the social media and also stay away from nefarious attempts to spread rumour. Ali urged the people to maintain peace and tranquility, and brotherhood in the society.
On the other hand, the Asom Gana Parishad (AGP) regional committee of Namrup also took out a peace rally which was joined by other local organizations at 7 pm on Sunday.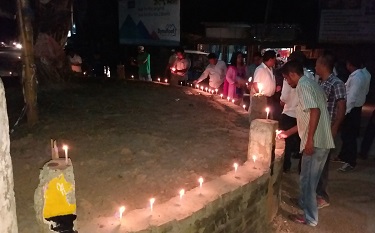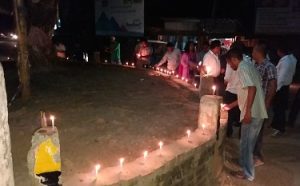 The peace rally was taken out from Namrup Sonari Tiniali to Gurudwara Complex.
Speaking on the occasion, Tileswar Borah, the president of the Namrup regional committee of the AGP, which is a partner in the BJP-led Government at Dispur, said, "Our State Government has totally failed in maintaining peace in the society. We don't want any such incidents to occur in Assam in the future."
The other organizations which also joined the rally included Namrup Fertilizer Swarmik Union, Namrup Fertilizer Workers Union, Namrup Taxi Sanstha, Tuk Tuk Sanstha, Namrup Press and Society, Namrup Asom Gana Yuba  Parishad.
The Namrup AASU regional committee also lit earthen lamps along the roads of Namrup.