Suspended Congress leader Anil Raja has made another blow to former Minister and Congress leader Rakibul Hussain by making public a new list of property which the former minister allegedly possesses.
Raja making the list of huge property public on Monday, said those property are in the names of Rakibul Hussain, his mother Lutfur Nahar Hussain and some of his relatives.
Also read: APCC suspends Anil Raja from party on charges of anti-party activities
Presenting the new list, Raja claimed, under the Beltola Mouza in Kamrup (Metro) district, Rakibul has a Myadi land of 8 katha (Patta No 1765 Daag No 1659) at Hatigaon's Kisamat, a land of 7.12 katha (Patta No 1949 Daag No 1526 and 2527) at Dwarbandha village.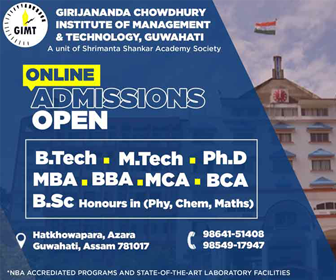 Presenting another list of Rakibul's property, Raja said under Beltola Mouza, Rakibul has a land of 8.02 katha (Patta No 1571 Daag No 1522) and a land of 8.99 katha (Patta No 455).
Raja added, Hussain also has a land of 1 katha 5 lecha (Patta No 3325 Daag No 1415) in Sivasagar town.
It may be mentioned that the core committee of the Assam Pradesh Congress Committee (APCC) had suspended Anil Raja on charges of being involved in indiscipline and anti-party activities. Raja had levelled allegations of massive corruptions against Hussain earlier.
Further by making strong allegations, Raja said, "Rakibul Hussain is also the owner of Tanz All Super Market located in Nagaon town and a resort – NT Resort – at Amoni in Nagaon in one of his relatives' name."
Raja claimed that Hussain purchased several property in his close friend Jakir Hussain's name.
A probe has already been launched by the Vigilance and Anti-Corruption Bureau formally into allegations of former Congress Minister Rakibul Hussain owning disproportionate property. A team of Vigilance & Anti-Corruption Bureau led by SP Pranabjyoti Goswami visited various sites of property owned by the former Congress Minister and his close relatives and questioned people as part of their investigations.
The investigation was launched on the basis of a complaint lodged by Anil Raja in the Vigilance & Anti-Corruption Bureau accusing the former Assam Forest, Tourism and Panchayat and Rural Minster.
The Vigilance and Anti-Corruption Bureau sleuths visited Medilab Diagnostics Centre, a Bata showroom and a few other property located in the heart of Nagaon town besides scanning documents of other property allegedly owned by Rakibul Hussain and his relatives.