A herd of wild elephants went on a rampage and left behind a trail of destruction at Nagrijuli area in Baksa district of Assam on Wednesday night. The wild tuskers created terror at several villages falling under the Nagrijuli Development Block in the said district.
It is reported that elephant habitats are shrinking along the Indo-Bhutan border due to continuous human encroachment thus forcing them to come out of their natural habitats in search of food and, in the process, triggering conflict with the locals.
The said group of wild elephants entered Nagrijuli Tea Estate on Wednesday night and sat along the bank of Bornadi River. In search of food, the marauding tuskers entered Line No 6 and 8 of Nagrijuli Tea Estate and crushed the houses of Birshi Munda, Apurba Dundi, Amrit Bagh, Albish and Dilkumar. Another herd of wild pachyderms entered the nearby Dongargao village and smashed the houses of Uttam Biswas and Gudum Munda and broke the shops of Santosh Rai and Boistav Rai.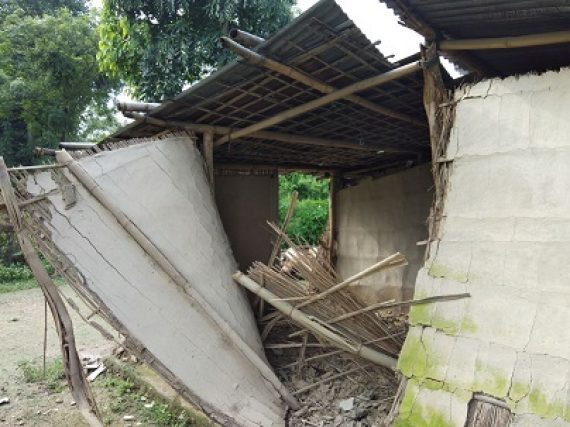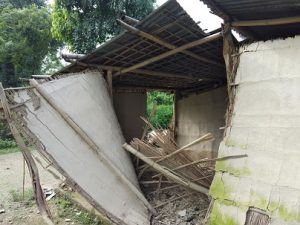 The marauding tuskers ate whatever food was left inside the houses and the shops and caused huge loss of property. The helpless villagers tried their best to chase away the wild elephants, but in vain. The villagers as well as the labourers of Nagrijuli Tea Estate stayed awake the whole night till the group of wild elephants left for the jungles at dawn.
The villagers have demanded that the State Government and the concerned authorities should take necessary steps to stop human-elephant conflict but, wildlife activists say that human encroachment in the forests of Northeast India have forced elephants out of their habitats thus triggering the said situation. Elephants rampage through villages in search of food as their habitats are being overtaken by people, say conservationists.