The tripartite talk on separate state demand of Bodoland was held at the Union Home Minister's office in New Delhi under the chairmanship of Union Home Minister Rajnath Singh.
In this tripartite talk, bureaucrats present from the Central Government were Rajiv Gauba, Union Home Secretary and Satyendra Garg, Joint secretary, Home (Northeast).
J K Mishra, Additional Director, IB were also present.
The Government of Assam was represented by Bhabesh Kalita, Minister of State CMO, Revenue, Irrigation etc, T Y Das, Chief Secretary, Arun Sarma, Principal Secretary, Home & Political Department, Kuladhar Saikia, Director General of Police, Assam and Pallav Bhathacharya, Special DGP (SB) among other officials.
From the negotiating Bodoland movement team, the All Bodo Students Union (ABSU) was represented by Pramod Boro, president; Dipen Boro, vice president; Romeo Narzary, vice president; Lawrence Islary, general secretary;  Kwrwmdao Wary, assistant general secretary and Khungkra Swargiary, adviser.
While the People's Joint Action Committee for Boroland Movement (PJACBM) was represented by Rakesh Boro, chief convenor; Garjan Mashahary, deputy chief convenor and Benedict Hajoary, adviser.
Others who participated in the meeting were S K Bwiswmuthiary, Ex MP(Lok Sabha); Urkhao Gwra Brahma, Ex MP(Rajya Sabha) and president UPPL; Rwn Gwra Narzary, MCLA BTC and leader of Opposition, BTCLA and vice president, UPPL; Prodeep Kr Daimary, general secretary, UPPL; Brahman Baglary, vice president, UPPL.
In the discussion that lasted for about 40 minutes with the Home Minister, the movement group placed for the early solution of Bodoland issue, inclusion of the Bodos of Karbi Anglog in to ST (Hills) and land and political right to the Bodos living outside the proposed Bodoland area.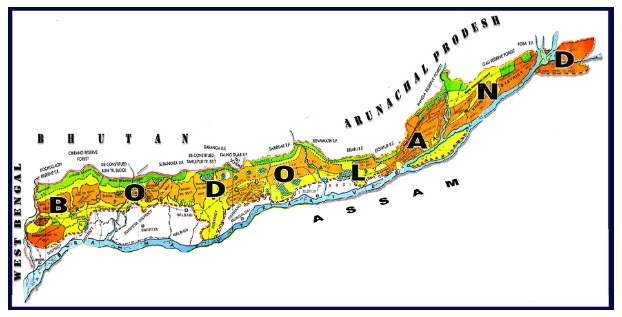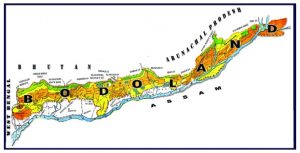 Home Minister Rajnath Singh listened patiently and responded positively.
He had given a positive note to take up the matter for solution and continue the talk in frequent manner.
The movement organizations expressed their gratefulness towards convening the tripartite talk after a long gap of more than a year.
The movement groups also expressed confidence that a solution will be arrived at through negotiation.