Senior Bharatiya Janata Party (BJP) leader and the incumbent parliamentarian from Assam's Tezpur constituency R P Sharma is in all likelihood to join the All India Trinamool Congress (TMC).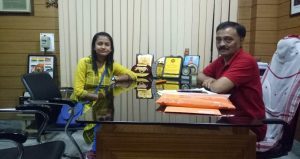 This was disclosed by the state committee of the TMC to Northeast Now on Friday. Sharma was denied the party ticket in this Lok Sabha election
According to highly placed sources inside the TMC state committee, Sharma will join the party on May 25 next at a formal function in the State which will be attended by TMC observer Firhad Hakim.
Notably, Sharma has sensed that the veteran party leaders and workers will be gradually sidelined way back in 2015 when Himanta Biswa Sarma joined the saffron brigade along with a team of his loyalists.
Sharma had indicated that he will be joining another national party on March 16 last when he resigned from the BJP.
Notably, spokesperson of the state unit of TMC, Bhabani Kalita was in constant touch with Sharma since February last.TMC sources revealed that the process of inducting Sharma into the party fold was going on till that time. The source further said that the party had even requested Sharma to contest the Lok Sabha election on TMC ticket from Tezpur.
It has also been revealed that Sharma had gone to Kolkata last week and had a meeting with Firhad Hakim.
Sources further revealed that Sharma will be given the state president post on May 25, the very day of joining the party. Presently, the post of the state TMC president is being held by former legislator Gopinath Das.