The general observer for the 8 Mangaldai HPC has been visiting rather inaccessible areas of darrang district in Assam during the last couple of days.
Much to the surprise of the voters of the remote riverine 'char' areas  of the district of Darrang and even to surprise of officials and staff engaged in the election for 8 Mangaldoi HPC, Captain J M Pathania, the election observer (general) has used to regularly visit these hard accessible areas.
Commissioner of Transport of Himachal Pradesh, Pathania in these days has met people of such areas where hardly any of the senior administrative officials, not to speak of the deputy commissioners over the last several years could never made their presence felt.
Observer Pathania perhaps had little idea that on a single day journey he could experience the rare adventure of three different rides – first a motor cycle followed by a buffalo cart and finishing on a machine run country boat locally known as Bhutbhuti.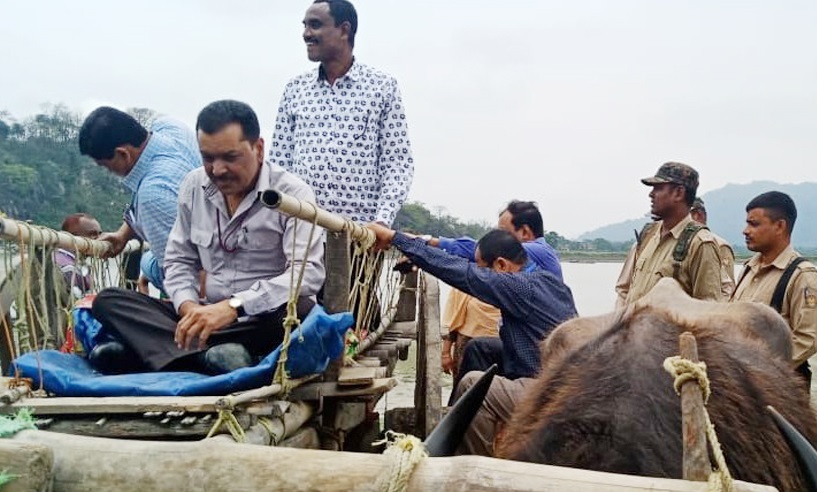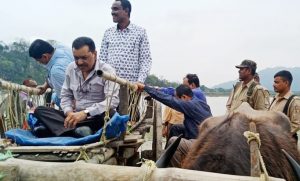 On Monday the election observer visited three polling stations –  No 280 (right), 281 (Middle) and 282 (left) at Gasbari LP School under 67 Mangaldai LAC (SC). But to reach his destination, he had to reach Mayong via Guwahati by road and leave his Innova car there to board a 'bhutbhuti' on river Brahmaputra and finally to ride a buffalo cart for his onward journey.
In the Gasbari LP School premises he closely interacted with the common electorates and practically verified infrastructure scenario of the polling booths and other necessary facilities for differently able and aged voters.
On the previous day,  Captain Pathania made an extensive journey to  around 14 other polling booths from No 191 to No 204  located at the very hard accessed  'char' areas namely Chaulkhowa, Kirakata and  Dholpur riding on a motor cycle.
He expressed serious concern over the erosion hit No 201  Kirakara Bazar LP School and No 202 Kirakara Middle LP School and reportedly directed the authorities to make urgent temporary arrangements of polling booths for the voters of the said polling booths.
Principal of DIET, Darrang at Dalgaon Madhab Sarma who has been appointed as the protocol officer to the election observer along with his deputies accompanied Pathani in each of these journeys.