There is good news for the people of Jorhat with a number of pay and use public toilets coming up in different parts of the town, thanks to  Anand Agarwalla,  businessman and proprietor of Shankar Bearings.
Assam Legislative Assembly Speaker and Jorhat MLA Hitendra Nath Goswami on Sunday inaugurated a public toilet built by Agarwalla at Garmur crematorium here on Sunday.
On Saturday, Padmashree Natwar Thakkar,  a Gandhian, and popular for setting up the Nagaland Gandhi Ashram at Chuchuyimlang,  Nagaland, laid the foundation stone of a toilet with bathing facilities at the old ASTC bus stand in Jorhat.
Agarwalla said that the main objective of the Hindu Smashan Committee  of which he is the vice-president, was to show the Speaker the filth created by the dumping of garbage in the area,  the seepage of which was polluting the waters of river Bhogdoi,  from which two water supply schemes drew potable water.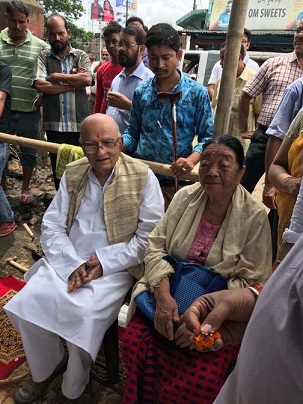 Goswami was reportedly aghast to see the unhygienic condition and stench of the place which gave a lie to India's Swachh Bharat scheme.
Agarwalla said that Goswami had assured them that he would make a separate entry for the crematorium,  the road to which was now strewn by the garbage, within 45 days.
Agarwalla said that the Speaker had expressed dismay at the state of the  garbage dumping ground of the Jorhat Municipal Board and had evinced interest in buying a compost machine which would cost about Rs 5 crore and would segregate waste into biodegradable and non bio degradable,  converting the former  into compost and the latter into plastic bricks or other recycled material.
"If the machine is bought we can operate it  and give part of the profits to the state," he said.
Agarwalla said that earlier in a meeting at the Upper Assam Chamber of Commerce office, Jorhat MP Kamakhya Prasad Tasa had asked the businessmen gathered there to help clean up the place,  and that he too had been told about this machine which could be operated by them but not bought because of the cost.
However,  there was no further communication from Tasa's end.
"Our main aim is to clean up the place which is a veritable powder keg of epidemic diseases.  We hope that Goswami would help buy the machine as promised," he said.
The toilet at Garmur was built at a cost Rs 6 lakh while the one at the ASTC will cost more as it will about 52 ft by 15 ft.
Agarwalla has already built another toilet at the Cross Road of Gar-Ali and KB Road and said that he would build the fourth near the ISBT.