Reputed theatre artiste Sukracharya Rabha, who died on Friday night following a pressure stroke, was cremated with full State honour on Saturday at his birthplace, Rampur village, under Balijana development block, some 15 km from Goalpara town.
Rabha was cremated in the same forest near his Sal tree platform where he used to enact his dramas through his art and cultural organisation, Badungduppa Kala Kendra, under the banner 'Under the Sal Tree'.
Also read: Assam: Renowned theatre artiste Sukracharya Rabha passes away
Anurag Rabha, his eleven-year son, lit the funeral pyre on the mortal remains of his father.
Goalpara Deputy Commissioner Varnali Deka placed wreath on the mortal remains of Rabha on behalf of Chief Minister Sarbananda Sonowal along with Amitava Sinha, Superintendent of Police, who paid tribute on behalf of Assam Director General of Police.
Earlier, a team of Assam Police paid tribute to Rabha by blowing trumpet and performing gesture of honour in its departmental way besides remaining silent for two minutes.
Renowned actor of international repute, Adil Hussain, All Assam Students Union (AASU) chief advisor Dr Samujjal Kr Bhattacharjya, AASU president Dipanka Nath, sculptor Biren Singh, actor Pabitra Rabha, Rabha Hasong Autonomous Council (RHAC) chief executive member Tankeswar Rabha and thousands of his fans and followers attended the funeral ceremony and paid last tribute to the departed soul of Sukracharya Rabha.
Prior to this, the post-mortem of Rabha's body was done at the Bhalukdubi Civil Hospital and the body was handed over to the family members about 10 am. Doctors in the hospital affirmed that he suffered from pressure stroke which caused his death.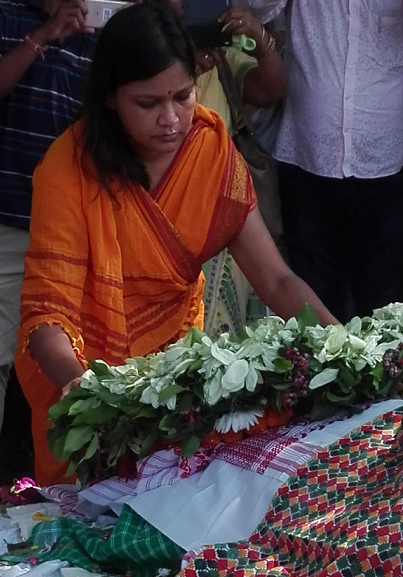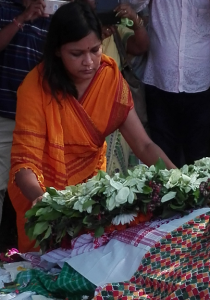 From the civil hospital, Rabha's body was taken to the Goalpara College field where students and teachers, senior citizens, journalists' associations paid tribute. From there, his body was taken to the Agia Higher Secondary School and finally to his native village, Rampur for performing last rites.
On Saturday, on the sidelines of the cremation, Adil Hussain, while speaking on Sukracharya Rabha, said, "The only thing that comes to my mind at this time is, this loss is irreparable. He was a real artiste."
Dr Bhattacharjya also said, "He (Rabha) tried to lead and form the society through drama." AASU president Nath also termed the death as a great loss to the State.
Meanwhile, the members of the Badungduppa Kala Kendra are shocked at the sudden demise of their leader. Most of the Sukracharya Rabha's students were in tears and looked frustrated. However, some of the fans and followers sat in a discussion just after the cremation to chalk out the future plan and to find out the ways to continue the Badungduppa tradition in the same place.
"We are discussing about the future of the 'Under the Sal Tree' tradition. But this will take some time and we will wait to let the other rituals finish first," informed one of his close aides.
Meanwhile, the social media networking sites, including Facebook, WhatsApp, have been flooded with condolence messages at the demise of Rabha, who was able to draw attention of all with his innovative ways of performing plays.