Assam Chief Minister Sarbananda Sonowal made an appeal for active public participation in donation of toilets to the poor and needy persons in the State. While inaugurating the State level programme of 'Mission Sambhav', an initiative for building 1 lakh sanitary toilets throughout Assam in a time bound manner, Chief Minister Sonowal made this call and appreciated the people of the state for their participation in making the Swacch Bharat Abhiyan (SBM) successful in Assam.
Speaking at the State level inaugural ceremony organized by SBM, Gramin at Gopal Krishna Tea Estate under Jagiroad LAC in Morigaon district on Monday, Chief Minister Sonowal said that the Government of Assam during last 22 months built around sixteen lakh sanitary toilets in the State.
He termed this as a reflection of the State government's commitment towards the cause of a clean Assam and exuded confidence that State government would be able to complete construction of toilets in the remaining households within a short period to declare the State 'open defecation free'.
"Swacch Bharat Mission has become a mass movement today. It no longer remains a government programme alone," he observed adding that the Prime Minister's call for a clean India received spontaneous support from the people of the country.
Chief Minister Sonowal further asserted that the government's fight against corruption would continue more vigorously in the days to come to cleanse the society from this social evil. He also said that perpetrators of crime against women would be given exemplary punishment and informed that the state government has already requested the Gauhati High Court to set up 'Fast track Courts' to deal with such cases.
The Chief Minister also spoke about several initiatives taken up by the State government to develop rural economy in the State. He also lauded the tea garden workers for shifting to bank transaction from cash transaction for receiving their salaries in the aftermath of demonetization.
The Chief Minister also said that the State government is working to reinforce peace, harmony, brotherhood and friendship amongst all communities of the state and urged the people to promote scientific temperament and positive values in the society.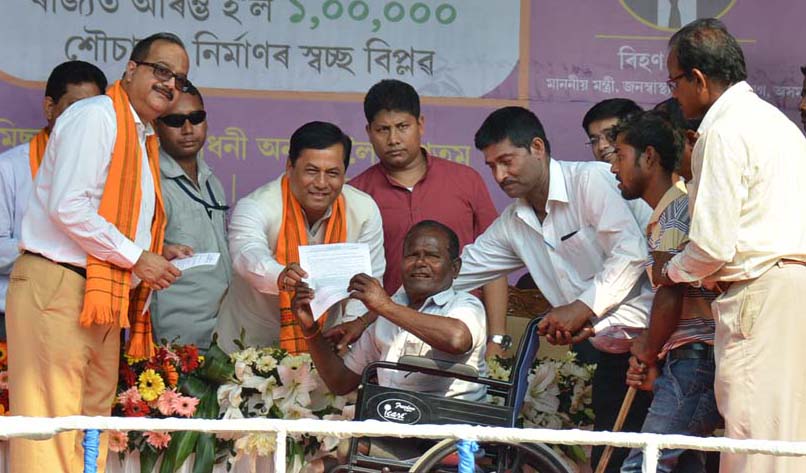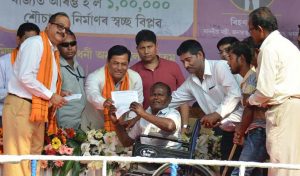 Coinciding the programme, Chief Minister Sonowal also handed over sanction letters to beneficiaries for direct benefit transfer of fund for construction of sanitary toilets in Morigaon district. He also gave away his 'Letter of Contribution' as part of 'Daan Toilet' initiative for construction of sanitary toilet of a differently abled person in the programme, stated a government press communiqué.
Along with the Chief Minister, PHED Minister Rihon Daimary, Jagiroad MLA Pijush Hazarika, Morigaon MLA Ramakanta Deuri and CEM to Tiwa Autonomous Council Paban Manta also joined the 'Daan Toilet' initiative by donating toilets to four other differently abled persons identified on priority basis in Morigaon district.
PHED Minister Rihon Daimary in his speech informed that so far six districts in the state have been declared open defecation free alongwith 857 villages and 50 tea gardens covering 23 lakh households. He expressed hope that remaining households would be covered through SBM within October 2 next.
Jagiroad MLA Pijush Hazarika, Morigaon MLA Ramakanta Deuri also delivered speech in the programme. CEM of Tiwa Autonomous Council Paban Manta, Additional Chief Secretary Kumar Sanjay Krishna, MD SBM Dr Siddharth Singh, Chief Engineer of PHED Samya Kumar Baruah, Morigaon Deputy Commissioner Hemen Das, freedom fighter Dasham Deka and several other dignitaries were present in the programme, the communiqué added.