The Centre is putting on hold the Citizenship (Amendment) Bill, 2016 in view of the fierce resistance to it in Assam.
This became evident after the Joint Parliamentary Committee (JPC) met on Tuesday.
Also read: JPC meet on Citizenship (Amendment) Bill remains inconclusive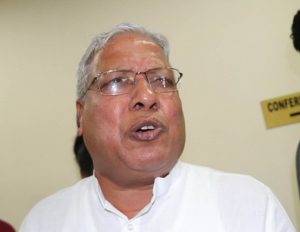 The JPC chairman Rajendra Agarwal told members that the panel may now meet again only a day ahead of the start of the Winter Session of the Parliament.
That means the JPC report will not be ready and that the bill cannot be tabled during the Winter Session of the Parliament.
The report may be delayed because many of its members have moved amendments to the bill.
The Assamese regional groups including BJP ally Asom Gana Parishad (AGP) have stoutly opposed the Citizenship (Amendment) Bill, 2016 on grounds that it violates the terms of the 1985 Assam Accord.
BJD member Bhatruhari Mahtab proposed that the bill should drop Bangladesh from its purview and instead add Sri Lanka as a country whose minorities could avail of Indian citizenship.
The Congress and the CPI-M have sought amendments to do away with naming the religion of the refugees and the countries from where they have fled due to persecution.
Opposition leaders also proposed that former Assam Chief Minister Tarun Gogoi's affidavit, granting 'deemed citizenship to all whose name appeared on 2014 voters' list should be considered as cut-off date for granting citizenship.