Promising Assam boxer and youth icon Ankushita Boro on Saturday rallied for creating voter awareness in Tezpur town as 'brand ambassador' for the Systematic Voters' Education and Electoral Participation (SVEEP) programme under Tezpur Election district.
District Election Officer and Deputy Commissioner Narsing Pawar, flagged off the rally of the winner of the AIBA World Youth Women's Boxing Championships 2017 from Court Chariali and appealed to the voters to come out in large numbers on the day of poll and take part in the biggest festival of India and experience the true colours of the Indian democracy.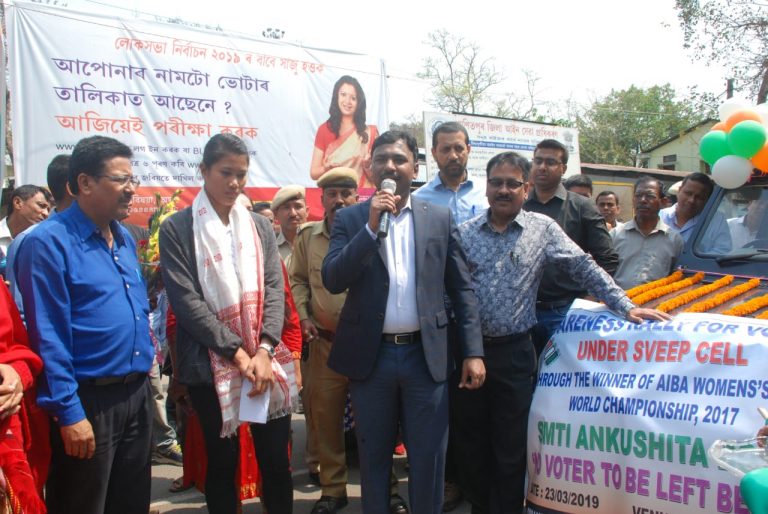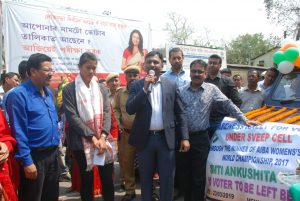 Speaking at the programme, Ankushita Boro made a fervent appeal to the people and specially the first time voters to take part in the election and fulfill their responsibility to the nation by casting their vote on April 11.
The motorcar rally which traversed through Tezpur town carried posters and banners on creating awareness about the importance of people exercising one's franchise. A theme song for voter awareness has also been recorded by the district SVEEP cell. Senior district administration officials also joined the rally which was also accompanied by a cultural troupe.
On the other hand, a model polling station has been set up at the premises of the Deputy Commissioner's office which was inaugurated by the deputy commissioner Narsing Pawar on the day.
The polling station has been set up complete with functioning EVM and VVPAT machines for the public in a bid to create awareness about their functioning.
In view of the upcoming Lok Sabha elections, the District Election Office, Tezpur has been carrying out varied awareness campaigns all over the district in order to increase electoral participation and ensure 100 per cent polling under the Systematic Voters' Education and Electoral Participation (SVEEP) programme.
Various rallies and street plays and other activities have been carried out to encourage voters' turnout and encourage youth and first time voters to come out and cast their votes.
Also, similar awareness drives are also being carried out to make the people aware about the functioning of EVMs and VVPATs.