Along with the rest of the nation, Constitution Day was observed at Ajmal Law College in Hojai of Assam on Monday.
On this auspicious day, a legal aid awareness centre was also inaugurated at Ajmal Law College building, which is specially opened with the objective to provide assistance to downtrodden and weaker section of the society.
The programme began with lighting of lamp in front of the portrait of father of the Constitution, Babasaheb Dr Bhimrao Ramji Ambedkar.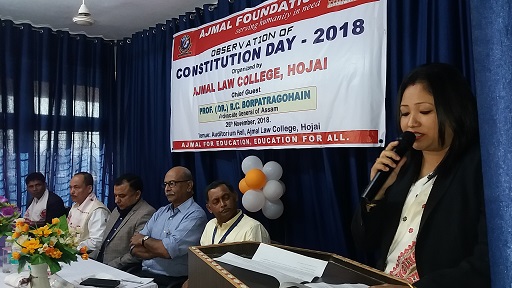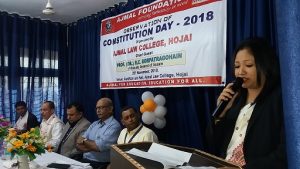 Advocate General of Assam Prof (Dr) R C Borpatragohain graced the occasion as chief guest, judicial service officer Pronita Morang from Nagaon graced the occasion as guest of honour, educationist Pradip Bagchi, Ajmal Foundation's general manager Khasrul Islam, administrative director of Ajmal Group of College, Colonel Samir Khanjilal (retired) and Akkash Ali, Principal, Ajmal Law College were present on the occasion.
Speaking at the programme, Advocate General Of Assam Prof (Dr) Ramesh Chadra Borpatragohain said,"Our Constitution is unique, it is above all religious scripture or holy book. It is the thread which has kept all the communities of society united, in spite of various diversities in variety."
He further said, "Constitution is only the source which can safeguard our country. Today the need of the hour is to organize legal mass awareness camps through various means and it also important that people understand the significance of Constitution in their day-to-day life."
Judicial service officer Pronita Morang appealed all the law students to use their legal education in the uplift of the society, especially in helping the downtrodden section of the society.
Hundreds of students, guests from all the walks of life joined the programme that ended with singing of the National Anthem.