The Rajiv Gandhi University (RGU) of Aruanchal Pradesh is organizing a two-day national Hindi seminar on Thursday and Friday.
RGU's Department of Hindi in collaboration with the Indian Council of Philosophical Research, New Delhi is organizing a two-day national seminar on 'Poorvottar Bharat ki Janajatiyon ka Darshan evam Sanskriti' at its Rono Hills campus in Itanagar.
Also read: Arunachal: Rajiv Gandhi University approves paper recycling unit project
The said seminar is being organized with a view to understand the processes of the loss of the region's traditional heritage and the erosion of cultural values.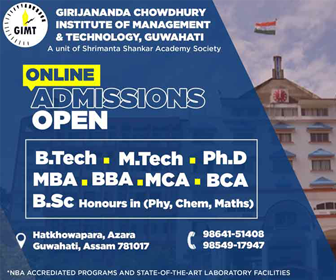 While former RGU Vice Chancellor Professor Tamo Mibang will grace the programme as chief guest, present vice-chancellor Professor Saket Kushwaha will preside over the said seminar in presence of University registrar Professor Tomo Riba.
In all 37 speakers from across the country will present papers in the seminar, which will also see the participation of scholars from various colleges of the State including Dr Balmukund Pandey, organizing secretary of Bharatiya Itihas Sankalan Yojna, New Delhi who will attend the colloquium as keynote speaker.