The Manipur Pradesh Congress Committee (MPCC) on Sunday said the allegations labeled by various stakeholders of Manipur University against the Vice-Chancellor are factually correct and appropriate according to the findings made by MPCC's high level committee formed to probe the varsity impasse.
MPCC chairman Gaikhangam said this while interacting with media in Imphal on Sunday.
He also said that the high level committee has submitted a report of observation to president in-charge of MPCC, N Loken on Sunday.
Gaikhangam also said the committee had met and deliberated with all the stakeholders of the university in order to maintain fairness and impartiality in the observation.
The high level committee of MPCC had approached Manipur University Students Union (MUSU), Manipur University Teachers' Association (MUTA), the Vice Chancellor and also guardians of the students studying in the university, he added.
Gaikhangam, however, disclosed that the Vice Chancellor was quite hostile when approached to share his views on the current crisis in the University.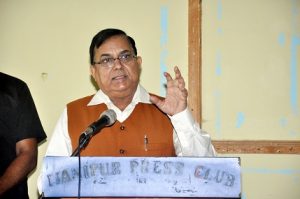 According to the findings of the high level committee of MPCC, the Vice Chancellor attends office only in the afternoon and stays late in his office, often indulging in non-academic activities and partying with 'contractors, women and other outsiders'.
The MPCC will be submitting its recommendations to State Chief Minister N Biren Singh, State Governor Dr Najma Heptulla, President Ram Nath Kovind and Union HRD ministry.
Gaikhangam said the committee was formed for the greater interest of the students and urged the people not to politicize it.
A delegation of MPCC is also leaving for New Delhi on Monday to apprise the central committee about the findings of the affairs of Manipur University.