The 2nd annual convention of the central committee of the youth wing of the United People's Party Liberal (UPPL) concluded on Thursday at the Rhino Sporting Club playground in Thaikajhora under Chirang district.
As per the programme, Somnath Narzary, President, Central Youth UPPL hoisted the party's flag which was followed by paying of homage to the martyrs by Maoti Brahma Hazoary, MCLA, 13 Chirang.
More than 10000 participants from 10 district committees like Kokrajhar, Parbatjhora, Gossaigaon,  Mushalpur, Tamulpur,  Bhergaon and Udalguri were present in the UPPL Youth wing conference in Chirang district.
Urkhao Gwra Brahma, president of UPPL, attended the convention as the Chief Guest.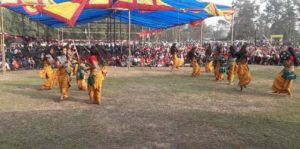 While speaking at the 2nd Annual Convention of the central committee of the youth wing of UPPL, Brahma said that their party UPPL has been working for all-round development of the Bodoland Territorial Areas District (BTAD).
Brahma also said that they have also been working for equal treatment for all as the public wants good governance.
He also added their party has also been working for maintaining peace and tranquility in the BTAD region.
Jiron Basumatary, MCLA, 4 Jomduar, Jwmwi Way, MLCA and other leaders of the UPPL besides the common people participated in the conference.