Buses carrying mostly students of Assam arrived at Sarusajai Stadium in Guwahati at 3.10 am in the wee hours from Kota in Rajasthan.
The buses and the returnees were accorded warm welcome by the district administration of Kamrup (Metro).
Notably state health minister Himanta Biswa Sarma and his deputy Pijush Hazarika were also present on the occasion.
Sarma took to Twitter to welcome the stranded students.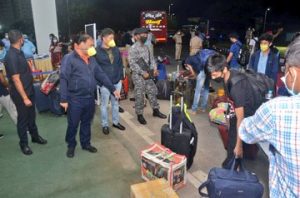 He on his official Twitter handle wrote:
'After a long journey from Kota 391 children are back, with smiles & cheers. To ensure they & their families remain safe, we are putting them into 14-day quarantine. Today around 3 am, I & @Pijush_hazarika received them and ensured smooth shifting at Sarusajai Sports Complex.'
All the odd-391 students from Assam who were stranded in Kota would be sent for quarantine at Sarusajai Stadium.
The students will be initially quarantined for five days and will be kept under observation.
Their tests will be conducted and then depending on their symptoms, the doctors would decide if they would be kept in institutional quarantine or they would be allowed for home quarantine.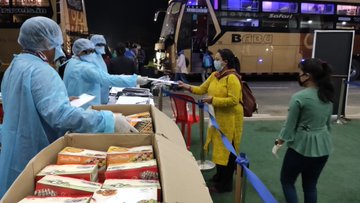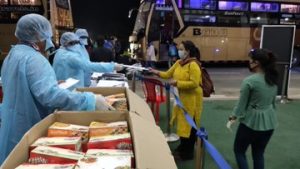 "All the students as well as officials who were sent to bring them back will be sent for institutional quarantine. We will also collect their swabs after five days for testing," state health minister Himanta Biswa Sarma had earlier said.
The minister further informed that these students are being brought back to the state in 17 buses, and the students themselves have paid for the bus fares amounting Rs 7,000 per head.
It is to be mentioned that the Assam government took up measures to bring back hundreds of students from the State who are stranded in Rajasthan's Kota during the lockdown.
A team of Assam Police was sent to Kota by a special flight to escort the students and bring them safely back to Assam.
The chartered flight used for the purpose is a cargo plane, the Learjet 45 of Triveni Earth Movers Pvt Ltd.
The police team then brought back the students by special buses from Rajasthan to Kushinagar in Uttar Pradesh and then to Assam.