Movie lovers of Assam are on for a visual treat as another movie is set for theatre release later next month.
Debutant director Deep Choudhury's 'Alifa' is all set to hit the silver screen on March 30 next.
Interestingly, 'Alifa' is the first movie which will be released in Assam and West Bengal simultaneously on that day.
The movie has already won accolades across movie circuits in both Assam and West Bengal.
Deep Choudhury who has also written the script of the movie had won the Swarnakamal for best debutant director at the 64th National Film Awards last year.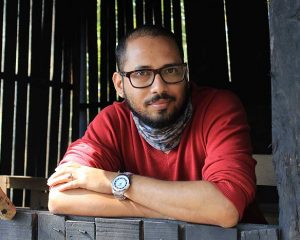 Talking exclusively to Northeast Now, Deep Choudhury exuded confidence that the movie goers will embrace the movie after its commercial release.
"I am sure movie lovers will enjoy the film and love it. They will not go home disappointed,'' a visibly excited and confident Deep Choudhury said.
'Alifa' is a saga of human-wildlife conflict competing with basic questions of love, hatred, dreams and desires as well as the frailties of human nature and wider social bonding.
Notably, the movie was also the only entry from India to compete in 'Innovations in Moving Images' section at the 22nd Kolkata International Film Festival last year.
'Alifa' has also won critical acclaim at several national and international film festivals.
The movie had won the Best Film Award at Ottawa Indian International Film Festival, Canada which was indeed a laudable achievement where movies like 'Lipstick under my Burkha' was also competing.
The movie is being produced by Arman Ahmed under the banner of Arman Productions.
The movie stars some well-known faces like Baharul Islam, Jaya Seal Ghosh, Prasun Gain, Satya Ranjan Sahu and Victor banerjee in crucial roles.
The title role is played by extremely talented Pakija Hasmi.
The background score is composed by Vickram Ghosh and edited by Rabiranjan Maitra, Kolkata who has done editing for movies like 'Mr & Mrs Iyer', 'Ekalavya' and the likes.