Bodoland Territorial Council (BTC) Executive Member for Sports and Youth Welfare Doneswar Goyary on Thursday said the Council has been giving priority to the development of sports in the region.
Goyary said this while addressing the concluding function of a week-long mountaineering camp organized by the Department of Sports and Youth Welfare, BTC at Dangdufur Hills, south-east of Kokrajhar, on Thursday.
EM Goyary said, "The Council will give importance on mountaineering which is becoming popular in the region as adventure sports." He also said they will look into the uplift of mountaineering in the BTAD area as it has several advantages to develop adventure sports.
Altogether 74 trainees from four districts in Bodoland Territorial Areas District (BTAD) participated in the training camp.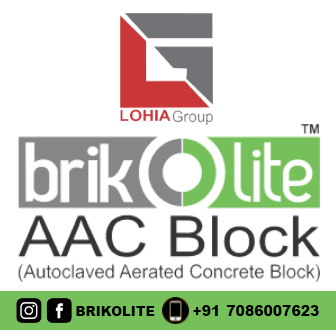 The closing ceremony of the camp was held at Damadarpur LP School premises on Thursday.
Besides, EM Goyary, who was present as the Chief Guest, the programme was also attended by the secretary of Sports and Youth Welfare Affairs, BTC, Bhavani Prasad Sharma and other dignitaries.
The coach of mountaineering Himat Boro of Guawhati said the camp at Dangdufur Hills was the 5th camp in BTC region sponsored by the Sports and Youth Welfare Department of BTC. He said altogether 73 trainees, 29 from Kokrajhar, 14 from Chirang, 16 from Baksa and 14 from Udalguri district took part in the training camp.
Boro also said, "Over 50 trainees received suitable grade in the seven-day-long training camp." Saying that the BTC region has enough potential to improve adventure sports, Boro said there is need of institution for adventure sports in BTAD and initiatives from the Council.
He also said, "Assam Mountaineering Association has been playing crucial role to send intending trainees in national and international trekking and rock climbing competitions." He also wants the BTC authority to give importance on mountaineering by extending solace. He hoped that there would be trainees from the BTC region to participate in Mount Everest expedition within three years.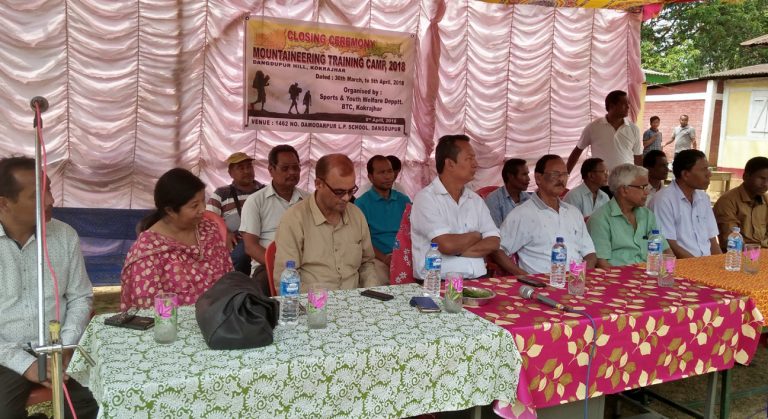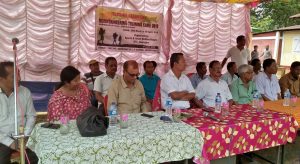 Earlier, the Council Head of the Department of Sports and Youth Welfare, Jajnabati Basumatary, delivered the welcome address while Secretary of BTC, Sports and Youth Welfare, Bhavanii Prasad Sharma and Head Master of Damodarpur LP School addressed the gathering.
The closing ceremony was also attended by the advisor of Kokrajhar District Sports Association (KDSA), Maguram Balary, Vice President of KDSA, Sarada Paul and Joint Secretary of Bodoland Indigenous Games Association (BIGA) Prasanta Kr Brahma.
Sukati Boro of Baksa district was adjusted as the best female trainee in the mountaineering camp while Pranjal Baruah of Kokrajhar was adjusted as the best male trainee.