Come election, the weekly market of Garo hills at Samanda becomes the campaign ground for most political parties as this gives them an opportunity to directly come in touch with the electorates.
Most political parties are yet to begin their campaign in poll bound Meghalaya. But the administration has stepped up its preparedness with its campaign on ethical voting and VVPAT, which are being used for the first time in Meghalaya.
Voter Verifiable Paper Audit Trail (VVPAT) provides feedback to voters using EVMs for voting. It functions as an independent verification system for the EVMs and allows voters to verify that their votes are cast as intended. It also serves as an additional barrier to changing or destroying votes.
A group of young people with white T-shirt with tagline – "cast your vote with conscience" written in Garo moves around the market making announcement that Garo legendary singer Browny Marak will speak to the electorates at Samanda market and within few minutes, the entire market gathers, where Marak makes his appearance.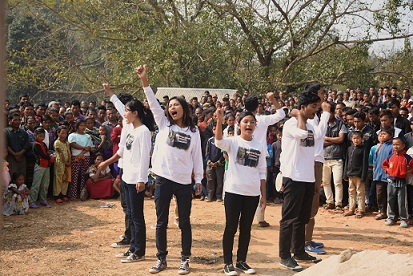 The young group, students of Loyola College Williamnagar sings out loud that it is an election time, which gives the voter's the right to choose their candidate, who will represent their voice and aspiration.
Samanda is about 15 km from Williamnagar in East Garo Hills.
The group through a short street drama tries to send out a message that voting is their individual choice and they should exercise their franchise without any fear or favor and choose the candidate of their choice.
It is an accepted practice in most villages of Garo hills where a head or a leader of a village takes decision whom to vote. He or she calls for a meeting and decides on behalf of the entire society that a certain candidate should be chosen.
The drama tries to educate the people, who gathered at the market that voting is personal and electorates should make an individual choice. They also send out a message that a person should not vote just because the contesting candidate is from the same clan, or believe in the same religious practice.
Making an appeal rock star Browny Marak said, "An individual with an election ID card should not remain indoors during the voting day. Please come out an exercise your rights and choose a candidate of your choice".
The administration of East Garo Hills has appointed Browny Marak as an "election icon" of the district and he will be visiting different market areas of the district to make an appeal to the voters to come out and vote.
As part of the Systematic Voters' Education and Electoral Participation (SVEEP) campaign, the administration has also designed creative like jingle and songs, which have been designed and composed by Marak apart from series of messages, which will be propagated to the voters through social media platforms.