For the first time in the history of educational institutions in India, one university in Assam has conferred "Professorship" on its own Vice-Chancellor.
A large section of students, teachers and staff of the Assam Agricultural University (AAU) are flabbergasted because the vice-chancellor, Dr K.M. Bujarbaruah has suddenly started adding "Professor" before his name.
It is natural for everyone to be surprised with the addition of "Professor" with the vice-chancellor's name as Dr. Bujarbaruah was never a teacher.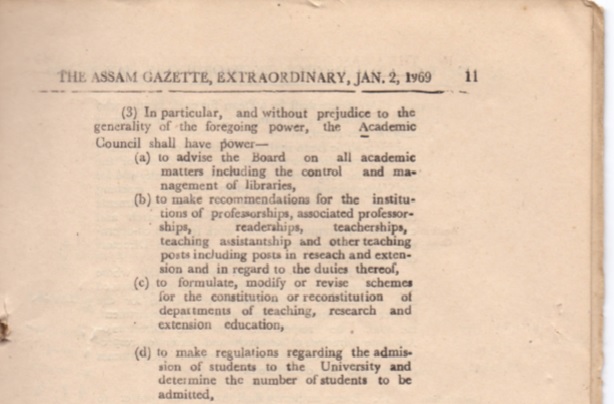 A 1977 batch of Agricultural Research Service (ARS), he worked in various capacities with the Indian Council of Agricultural Research (ICAR). Before taking over as the vice-chancellor of AAU in July 2009, he was Deputy Director General (Animal Sciences) at ICAR's headquarters in New Delhi.
The "issue" of the vice-chancellor adding "Professor" before his name first came to fore when the invitation cards for an international seminar, which was held on February 27 and 28 in the AAU campus in Guwahati, was distributed.   
When this correspondent spoke to the VC of AAU, he said, about two months back, the Academic Council of the University decided to confer "Professorship" on him. Interestingly, the vice-chancellor is the chairman of the Academic Council.
"What is the wrong in it? So far, people have been sending letters addressing me as Prof. Bujarbaruah," the vice-chancellor argued, claiming that the Academic Council members have every right to confer such professorships on anyone.  
However, according to the Assam Agricultural University Act, 1968, which was notified on the Assam Gazette on January 2, 1969, does not talk about any power of the Academic Council to confer "Professorship" to anyone.
According to 3 (b) of the Assam Agricultural Act, the Academic Council can recommend institution of professorship, associate professorship and assistant professorships to the "teaching staffs" of the university. It does not talk about conferring "out of turn professorship" to anyone.    
As per the dictionary definition, a professor is an accomplished and recognized academic. In most Commonwealth nations, as well as northern Europe, the title professor is the highest academic rank at a university.