The two-day international seminar on the 'Contribution of British Administration and Christian Missionaries towards the development of Bodo Language and Literature' organized by the Bodo Sahitya Sabha (BSS) in collaboration with Central Institute of Indian Languages, Mysore and hosted by Department of Humanities and Social Science, Central Institute of Technology (CIT), Kokrajhar started began on Monday at CIT campus in Kokrajhar.
Rajya Sabha MP Biswajit Daimary inaugurated the seminar while BTC deputy chief Kampa Borgoyary attended the inaugural function as chief guest.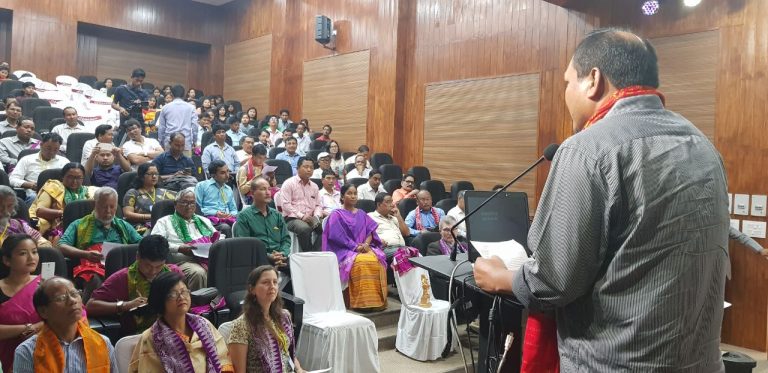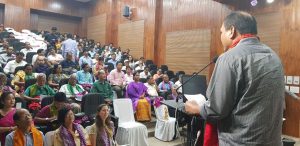 Registrar of CIT, Kokrajhar, Chaitali Brahma gave the welcome address while Dr Anjali Daimary, Academic Coordinator & Professor, Department of English, Gauhati University gave the introduction of the seminar.
Prof Peter B Anderson, department of Cross Culture and Regional Studies, Copenhagen University, Denmark presented the keynote address.
Dr Gwendolyn Hyslop, Lecturer of Linguistics, University of Sydney, Australia, and Bodo historian Hiracharan Narzinari are among the key speakers.
Bodo Sahitya Sabha president Toren Boro expressed hope that the seminar will be beneficial to the young generation and scholars in uplifting and enriching the Bodo literature.
It is to be noted that the apex Bodo literary organization, the Bodo Sahitya Sabha was founded at Basugaon, in the district of Kokrajhar, Assam on November 16, 1952 and since then it is working to promote the Bodo language and literature.
It consisted of representatives from Assam, West Bengal, Meghalaya, Nagaland, Tripura and Nepal.
After India obtained independence, a critical mass of Bodo intellectuals realized the need for prevention of Bodo language.
Many early Bodo authors studied in schools and colleges, where medium of instruction was either Assamese or Bengali.
Bodo intellectuals felt that Bodo language must be preserved and developed at par with Assamese and Bengali languages.
After prolonged struggle and determination of the Bodo Sahitya Sabha, the Bodo language was introduced as a medium of instruction at primary level in 1963 and then at secondary level in 1968.
Bodo language and literature has been recognized as one of the Major Indian Languages (MIL) in Gauhati University, Bodoland University, Assam University, Dibrugarh University and North-Eastern Hill University (NEHU).
In 1985, Bodo was recognized as an associate state official language of Assam and now it is a scheduled language of the Indian Constitution.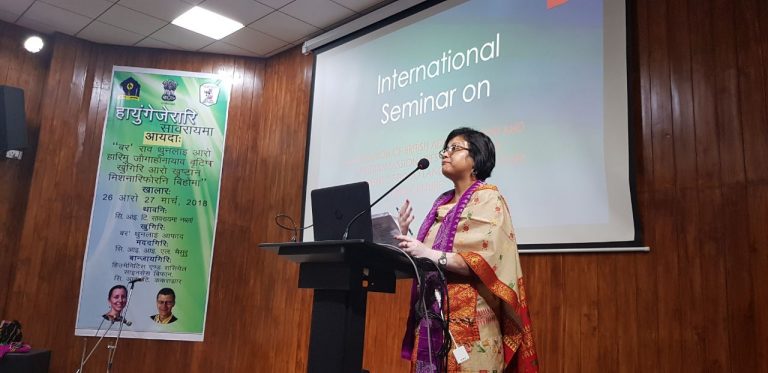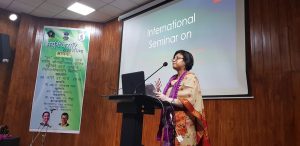 Now the language has attained a position of pride with the opening of the post-graduate courses in Bodo language and literature in the Gauhati University, Bodoland University and Dibrugarh University.
Moreover, under the aegis of the Commission for Scientific and Technical Terminology, HRD Ministry, Government of India, the Bodo Sahitya Sabha is preparing more than 40,000 scientific and technical terms in Bodo language.
The Bodo Sahitya Sabha has to its credit a large number of books on prose, poetry, drama, short story, novel, biography, travelogue, children's literature and criticism.