The tunnel constructed to ease the communication between the old building of the Gauhati High Court and the new building of the High Court was unveiled on Tuesday.
According to information, the tunnel was inaugurated by Chief Justice of Gauhati High Court Ajjikuttira Somaiah Bopanna in presence of a host of judges and advocates of the High Court.
Immediately after the inauguration of the tunnel, the advocates and employees of the High Court were seen in a happy mode as they passed through the new tunnel of communication between the old Gauhati High Court building and the new building of the High Court at Panbazar in Guwahati.
The tunnel has been constructed at a cost of Rs 22 crore, says reports.
It has also been reported that the length of the tunnel is around 40 feet.
The tunnel is connected with escalators on both the ends for which imported technology has been used.
According to reports, the tunnel is waterproof having AC.
The Assam High Court Order, 1948, the High Court of Assam, which has now emerged as the Gauhati High Court, was promulgated with effect from April 5, 1948, for the then Province of Assam.
Then Chief Justice of India Harilal Kania came to preside over the inauguration of the High Court at the invitation of then Assam governor Sir Akbar Hydari and the premier of the Province, Gopinath Bardoloi.
Sir R.F. Lodge, who became the first Chief Justice of Assam High Court, was sworn in on April 5, 1948.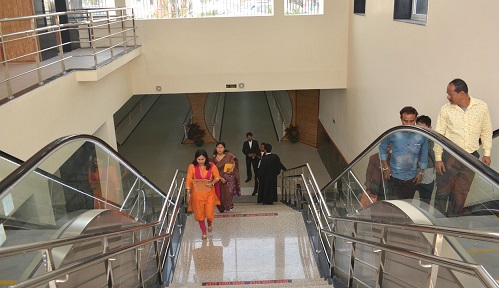 Initially, the Assam High Court had its sittings in Shillong, then state capital of Assam, but on August 14, 1948, the High Court was shifted to Gauhati.
Later, following constitution of Nagaland state with effect from December 1, 1963, the Assam High Court came to be known as the High Court of Assam and Nagaland.
However, following re-organisation of the northeastern region as per the North Eastern Area (Re-organization) Act, 1971, a common High Court was established for the five northeastern states including Assam, Nagaland, Tripura, Meghalaya and Manipur and two Union Territories – Mizoram and Arunachal Pradesh and then the High Court came to be known as Gauhati High Court.