Tripura Education Minister Ratan Lal Nath paid a surprise visit to various schools in and around capital Agartala to know the existing conditions on Tuesday.
Later talking to media persons, Nath expressed that his experience was painful and unsatisfactory.
Nath started his journey from a primary school and was disappointed to find that for the total 49 students there were seven teachers of whom three including the teacher-in-charge was absent.
This was not enough. He was surprised to see that out of the five classes (i.e. from standard 1 to v) three classes – standard one to three were taking place in the same classroom and conducted by a single teacher.
The Education Minister got the second shock to find that four out of seven teachers present, were for Kokborok, a language which is not taught in that school at all.
During checking the attendance register, Nath found large-scale discrepancies.
The Education Minister spoke with the students and collected information from them about the existing problems besides taking their suggestions for improving the overall education system, teachers, classes, drinking water, and washroom.
He even shared his personal cell number with them so that they could directly inform him about any problem.
The students were overwhelmed to get the Education Minister and freely informed him about various problems with the hope to get it solved at the earliest.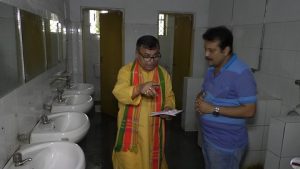 Later the Minister examined the kitchens, mid-day meals provided to the students and even interacted with the guardians who expressed that they had earlier never found any minister visiting any school or got a scope to express their grievances directly to the Minister.
All together, the Minister visited five schools during his eight hours surprise visit since early morning till mid-afternoon.
Nath later viewed that Tripura may claim to be the highest literate state but the quality of education here is very poor and the educated rate of the State as just nine per cent.
He said that his government's challenge is to provide quality education to the students so that they can compete with the rest of India and keeping this in mind in the recent budget the government has given highest priority to education followed by health and to develop the human resource.