As many as 33 passengers of an Agartala bound bus were injured when the bus fell into a gorge at Thanarai Para of Kalajhari ADC village under Dumbur block Gandacherra police station of Dhalai district in Tripura on Tuesday.
The ill fated bus was en route from Gandacherra to Agartala via Amarpur with 33 passengers. The bus left Gandacherra at 1.20 pm on Tuesday and fell into the gorge while negotiating a steep turn at Thanarai Para which is seven km away from Gandacherra.
The accident took place at around 2.15 pm on Tuesday afternoon. The bus bearing registration number TR-01B1391, a full sized bus of Tata Motors make, fell 135 feet deep inside the gorge and was broken into smithereens beyond recognition.
As a result, all 33 occupants were injured, many of them seriously.
Soon after the accident, the local people, SDO, SDPO and BDO, Damburnagar rushed to the spot.
Of the 33 injured passengers, 20 were admitted either at G B hospital and Gomati District hospital at Udaipur.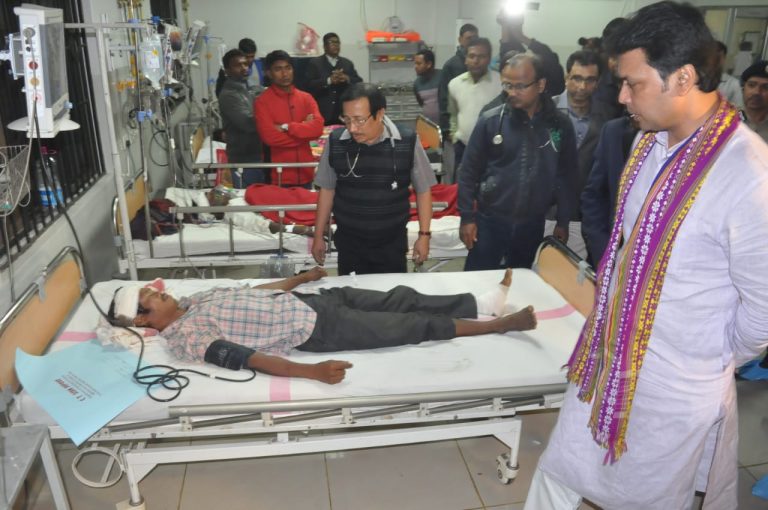 The critically injured passengers are Nandu Chakraborty (58), Swadesh Das (50) and Helabati Reang.
All the three critically injured passengers were admitted at G B hospital.
They were admitted at Intensive Care Unit of GB hospital. There condition is stated to be stable.
Three TSR Jawans were also injured in the accident.
The rest of the injured are recuperating at Gandacherra hospital.  Though the bus was not packed with passengers the driver proceeded with great speed. Even objection of the inmate passengers were ignored.
The local police ruled out any mechanical fault for this accident.