Along with Hindus all across the country, Govardhan Puja, also known as Annakut or Annakoot was celebrated with full devotion in the Jagannath Jew temple in Agartala on Thursday.
On this occasion, devotees prepare large and lavish meals, which are symbolic of Govardhan Hill, and are offered to Lord Krishna, who saved the villagers of Vrindavan from the wrath of Lord Indra.
Over 108 varieties of food items are prepared for the deity as a ritual of remembrance and to renew their faith in taking refuge in God.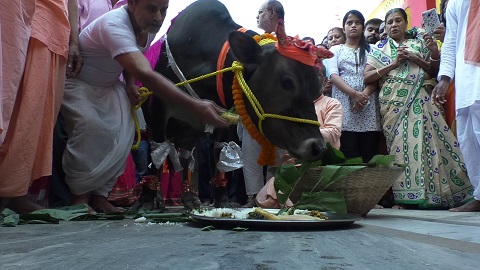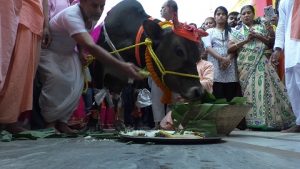 The Annakut festival is celebrated on the first lunar day of Shukla Paksha (bright fortnight) in the Hindu calendar month of Kartik.
People offered puja to the Govardhan Mountain by preparing Annakut (various types of food) and through the singing and dancing as they consider that the mountain the real God who provides the way to live life, provides shelter in severe conditions and save their life.
Lord Krishna is worshiped at this special day to commemorate the victory of God over the evil power.
People offer a bath to their cow and bulls in the morning and decorate with garland and offer delicious foods with immense enthusiasm.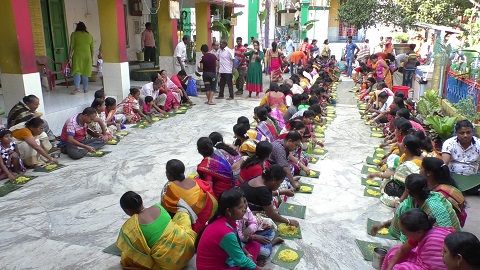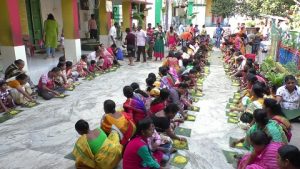 Hundreds of devotees took 'prasadam' on the occasion.
According to mythological stories and Hindu scriptures, the people of the forest of Vrindavan were saved by Lord Krishna by lifting the whole Govardhan hill with his little finger so that the villagers could go under the hills and save themselves from angered rain god Lord Indra and who sent down torrential rain and thunderstorm to the region.
Ultimately, Indra bowed down to the might of Krishna and the rains stopped in Vrindavan after pouring for seven days. From then on, Govardhan Puja has been celebrated by people, who on this auspicious prepare special dishes and offer it to thank Krishna.