The Dugdugi or Tom-Tom always remains a pleasing toy for the children. Now it is rarely but occasionally found during the Ashokastami Mela held every year in Dhubri.
The toy which has a simple motive – creation of an earthy sound – which is similar to rattling and sounds like Dug…Dug… Tak… Tak… Tak… Tak… goes the little Indian Mozart. The sound is inescapable, sometimes slightly irritating to a listener. But, the owner of this instrument (Kids) always seems to be the one with a big wide grin.
The Dugdugi or Tom-Tom which is in great demand among kids during the Mela (Fair) held here every year during the Ram Navami is facing a tough time due to drying up of raw materials and challenges posed by steady rise of plastic toys and dolls.
Makers of the traditional Dugdugi or Tom-Tom, all belonging to the minority community arrived here travelling nearly 600 kilometres from a remote village namely Choti Baruna of Khagaria district of Bihar during Ashokastami Mela said rise in prices of raw materials and availability of low-cost plastic replacements have badly affected their livelihood in the past couple of years.
Craftsman Mohammad Zalil, 66 years, who along with other villagers came to Dhubri a month's ago just before the Ashokastami Mela began to make Dugdugi, said that the materials that are used to make this toy are a bamboo stick, paper, clay and string.
"The toy made by traditionally skilled craftsmen is usually made available from door to door by our boys (vendors) at a price of Rs 10 per piece," he said.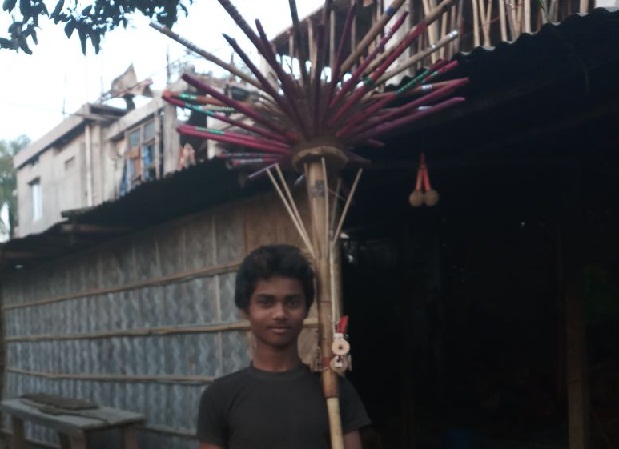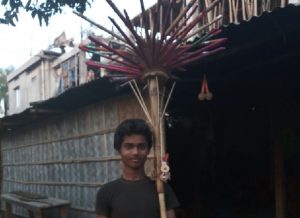 Mohammad Sazid, 48 years old, said, "I have been coming here for the last 30 years along with other villagers and have been making toys of various sizes for generations to cater to the kids' demands."
While Mohammad Rehan, son of Mohammd Sazid said that, "Earlier, I used to sell around 100-150 Dugdugis in a day, but now it has come down and hardly sell 40-50 per day."
Tazmul Husain, another toy maker said increase in bamboo prices of raw material, hard labour and low productivity, has hit life.
"We are purchasing all raw materials like bamboo, strings and clay from local market. We find very tough to earn even Rs 200 a day. Our family is engaged in making Dugdugi from dawn to dusk," he added.
Factory-made plastic toys are also competing with those made from bamboos. "A plastic made toy is much more costly then our Dugdugi but despite it, we are facing hard to sell it," added Hussain.
"Our forefathers were also engaged in this traditional toy-making business and after them we are trying to follow his craftmanship but due to hardship, it has become almost impossible for us to carry forward this tradition to our next generation," said 66-year-old Mohammad Zalil, who has been coming for the last couple of decades along with his other villagers (a group of around 50 persons).