The district administration seems to be oblivious to myriad of problems faced by the residents of large region in Bajali sub-division of Barpeta district.
Notably, the only road for communication for the people of 50 revenue villages to Pathsala, the sub-divisional headquarter, that connects with National Highway 127 is in dilapidated state.
The Bamakhata-Kordeguri road has not witnessed any form of repair for past many years, thanks to the indifference of the Public Work Department (PWD) and the swindling of funds by contractors.
Locals led by representatives of several organizations like All Assam Students Union (AASU), Asomo Jatiyabadi Yuba Chatra Parishad (AJYCP) and Krishak Mukti Sangram Samiti (KMSS) had staged a strong protest demanding immediate repair of the road on March 26 last.
The locals also vented their anger over the fact that the civil administration, police and the Forest Department are just mute spectators of the rampant and unabated sand digging at Pahumara river.
The trucks and dumpers ply on that road in large numbers on a daily basis worsening the condition of the road further and also causing much inconvenience to the commuters.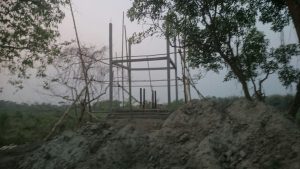 If these were not enough, the administration is now busy constructing a cremation ground just by the side of the PWD road near Gahinpapa police station.
The regional units AASU, AJYCP and the KMSS have submitted a memorandum to the Deputy Commissioner to immediately close down the cremation ground which is just 15 metres away from the road.
The leadership of these organizations, while questioning as to who gave permission for the construction of the cremation ground, also threatened to launch an agitation if the construction work is not stopped immediately.