Namthang-Rateypani MLA, Tilu Gurung of Sikkim has been conferred the Best Performing Legislator Award for the year 2017-18 on Thursday.
The award function was organized by Sikkim Legislative Assembly Secretariat at Chintan Bhawan in Gangtok.
Tilu Gurung has received a cash prize of Rs two lakhs and a silver plate memento.
The Best Performing Legislator Award was started in the year 2016 in the State.
The function has the Governor Shriniwas Patil as the chief guest and was attended by the Speaker of Sikkim Legislative Assembly, K N Rai; Deputy Speaker, Sonam Gyatso Lepcha; former Speakers, Kalawati Subba and KT Gyaltsen; Lok Sabha Secretariat Joint Secretary, Dr DK Singh, among other dignitaries.
On the occasion, the Governor also inaugurated a photo exhibition organized by the Parliamentary Museum & Archives of Lok Sabha Secretariat in collaboration with Directorate of Advertising & Visual Publicity, Ministry of Information & Broadcasting, Government of India and Information and Public Relations Department, Government of Sikkim at the venue.
The Governor congratulated Tilu Gurung for receiving the Best Performing Legislator award for the year 2017-18.
He expressed that a good 'karma' was very important for becoming successful and urged everyone to be positive and optimistic.
He also appreciated the Speaker and entire team of Sikkim Legislative Assembly for starting such a noble tradition to acknowledge the best performing legislator annually.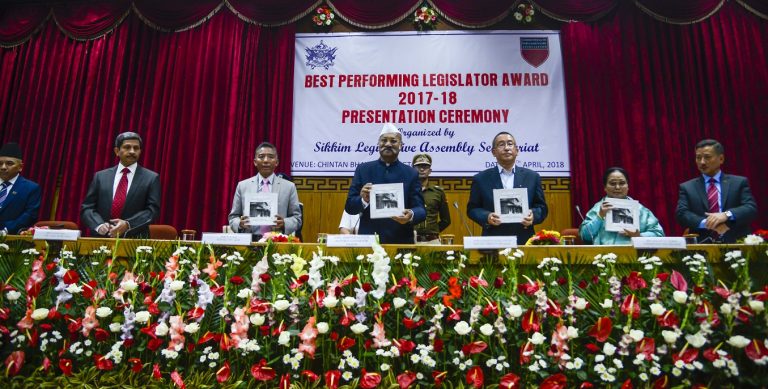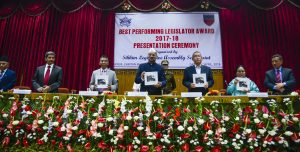 The Governor mentioned that the rapid pace of development over the last few decades has increased the expectations and aspirations of the people of Sikkim.
At the same time, he urged the people's representatives to carry forward the momentum of progress and development and to fulfil the aspirations of the people.
Sikkim Legislative Assembly Speaker, K N Rai presented the keynote address during the function.
The award ceremony was neatly punctuated by screening of a documentary film by Lok Sabha Secretariat titled 'Our Constitution'.
The function also witnessed the release of compendium of the 2nd Sikkim Legislative Assembly named as Pioneer of Democracy Vol-II.