In an apparent show of strength and integrity, Nagas from across the North-east – numbering in thousands from Nagaland, Manipur, Assam, Arunachal Pradesh and other places gathered at Kohima Local Ground in Kohima on Wednesday to participate in the Naga Day observation under the banner of 'Nagas Without Borders' organized by the Forum for Naga Reconciliation (FNR).
Naga patriotic songs and cultural programmes were presented on the occasion.
On the occasion, the gathering adopted a declaration that read – On this first Naga Day, January 10, 2018, we affirm and uphold the Naga Hills Memorandum of the Simon Commission on January 10, 1929, on behalf of the Naga people by the Naga Club, and we celebrate that Nagas are a people and a nation without borders."
"By coming together in solidarity, we demonstrate our collective desire to live as one people," stated the declaration.
According to the organizers, the Naga reconciliation process is a basic necessity to nurture and defend the right of the Nagas as one people.
"As individuals and as one Naga tribe, we agree to engage in a process of self-examination and to undertake a shared journey to wholeness through love, forgiveness, mutual understanding, compassion and healing so that Naga Reconciliation becomes a reality," the declaration added.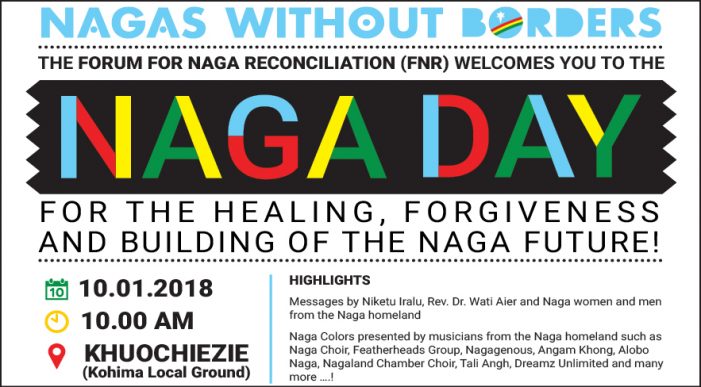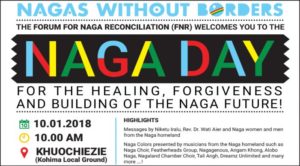 According to the declaration, to overcome the trust deficit and to strengthen the journey of healing, the Naga national groups, the State, the Churches, tribe organizations and civil society groups are encouraged to admit their failures and apologize to the people for the wrongs they have committed and to conduct themselves with honour, dignity and responsibility.
On the Naga political struggle, the Naga Day declaration said Naga sovereignty lies with the people and on the basis of the right to self-determination freely determine our political status so that we can fully develop socially, economically, culturally and spiritually as a dignified nation.
"We impress upon the Government of India to honour its commitment to engage the Naga political rights that stem from the facts of our history with honesty, sincerity and through peaceful means. The Naga political struggle being one of the oldest running conflicts in the world, must be addressed with openness, political maturity and statesmanship, for bringing about an inclusive, just and lasting resolution without borders. This must be given paramount priority above all other issues and should be reached at the earliest," it stated.
The Naga Day declaration also said the Naga national groups, the Governments of India and Myanmar must truthfully engage the Naga political rights with utmost transparency, accountability and respect for peoples' aspirations.