The much-hyped slogan 'change' of the Bharatiya Janata Party-led coalition Government at the State has proved to be just a gimmick as the city dwellers have been facing pathetic road conditions in various parts of Guwahati including Chandmari and Japorigog areas.
Political leaders through their 'attractive' speeches before 2016 Assembly elections promised to bring in 'change' across the State in all sectors including road, transport and health.
The people of the State, who experienced 15 years of Congress rule, voted the BJP to power with high expectations of change but the poor conditions of road in the city have highlighted what kind of change has been brought by the BJP-led coalition Government in Assam.
The pathetic condition of the Lakshmi Nagar Road that connects the RG Baruah Road at Nursery area near Ganeshguri and the Japorigog Road under Guwahati East Assembly constituency is an example of what kind of development has been brought in by the Government.
Naba Kumar Goswami, a resident and general secretary of the Brihattar Japorigog Rongali Bihu Sanmilan Committee, informed Northeast Now that the road was repaired in 2003 for the last time during the first term of the Congress regime in the State.
"The road has completely been damaged. No authority concerned or the current local MLA, Siddhartha Bhattacharya, has given any importance to solve the problem. The Congress also during its second and third terms in the State did not give bother to repair or reconstruct the road," Goswami said.
Goswami also said, "The pathetic road condition is the sign of so-called development brought by the BJP-led Government."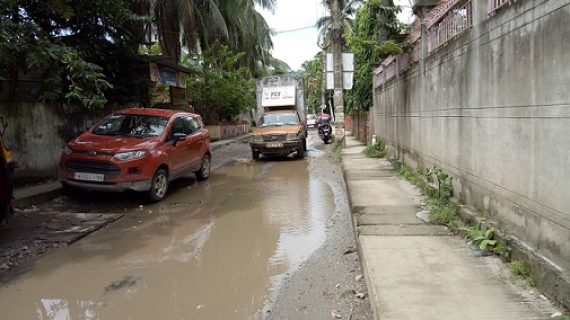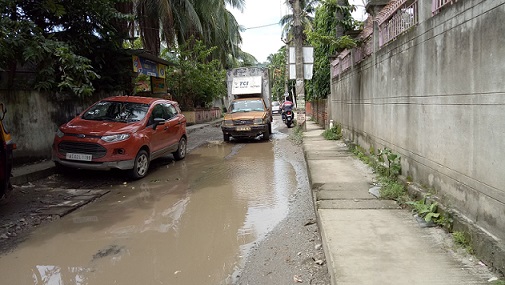 Around 300 families have been residing on both sides of the 875 metre long busy road in the area.
Huge potholes can be seen throughout the road resulting in water-logging following a shower for just few minutes. Patients are piggybacked as ambulance drivers deny to ply their vehicles on the road.
No proper drainage system has been observed by Northeast Now during its visit in the area.
Bike riders use the footpath measuring around 3 metres meant for the pedestrians as the condition of the road is worse and not suitable to ride two-wheelers.
Another resident, Kishor Bharali, while expressing anger over the political leaders, said, "All the political leaders are same. Be it previous local MLA Captain Rabin Bordoloi during Congress rule or the present BJP MLA, Siddhartha Bhattacharya – nobody bothers about the problems we have been facing since 2003. They only visit the place during the time of election to beg for votes."
Meanwhile, the people of Amiyanagar area in Chandmari of the city also expressed anger over the worse road condition that leads from Chandmari to Amiyanagar.