NPP President Conrad Sangma on Saturday kicked off the election campaign for Garo Hills from Adokgre in North Garo Hills and formally welcomed former Meghalaya Speaker and health minister Elstone D Marak in the party.
Introducing Rupert Momin, who is the NPP candidate from Kharkutta Constituency, Conrad said, "He is young and dynamic and has a vision for Kharkutta to make it a model constituency of Meghalaya".
Late Purno A Sangma had coined "Adokgre" as Chenanggre, which literally means a place for the victory. Purno Sangma had always led his campaign for election from Adokgre and had won elections consecutively.
"I will continue to keep the tradition of our founder Late Purno Sangma alive", Conrad said amidst huge applause from over 3,000 people who had attended the public meeting from the remote hills and plains of Adokgre area.
He said the political scenario in Meghalaya is changing and the Congress has lost its ground.
"The dreams of our forefathers Captain Williamson Sangma and Purno Sangma have not been realized. We have to reverse the trend and take the state to its highest pedestal of growth and development", he said.
He blamed chief minister Mukul Sangma for his false claims of Meghalaya's development.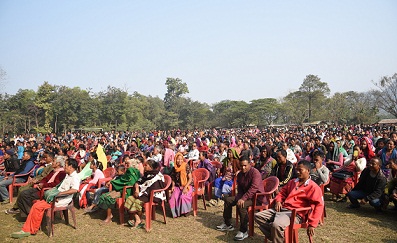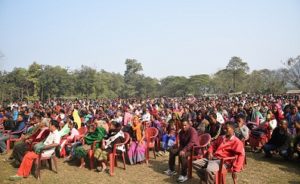 "If Mukul was sincere to work for the people he would have not laid the foundation stone in the last year when the election was at its peak", Conrad said.
"The manufacturing unit of foundation stone has developed and I am told that Dr Mukul Sangma wants to start a factory of his own," he added.
He informed the crowd that crores of rupees were spent in the last one year for foundation stone laying ceremony. "In just three months, more than 30 foundation stones were laid by Dr Mukul Sangma spending lakhs of rupees in each programme. It is a waste of public money, which could have been utilised to construct a school, health centre or other welfare initiative", he added.
He said that 2018 election is very important for the people of Meghalaya to change the trend for a better future of its people.
Talking about education Conrad Sangma said, "80 per cent of the teachers in schools of Meghalaya are not provided any training by the government. It is a sad scenario that our schools have no proper infrastructure. Many primary schools exist in name only, while those that exist have no teachers. The system is dead and not working", he said.