It seems Assam Government simply refuses to learn from past mistakes.
Goof ups continue to galore even as the state of affairs in the Government is handled by some media managers whose competence raises serious doubts.
An advertisement issued by the Directorate of Information and Public Relations on the occasion of Children's Day under the advertisement number: Janasanyog/6585/18 has been published in page three of the Assamese daily, 'Asomiya Pratidin' in Tuesday's edition, that is, November 13, 2018.
When even the tiny tots attending kindergarten know that Chidren's Day falls on November 14, the birth anniversary of independent India's first Prime Minister Jawaharlal Nehru, the basic knowledge of some at the helm of affairs are under scanner.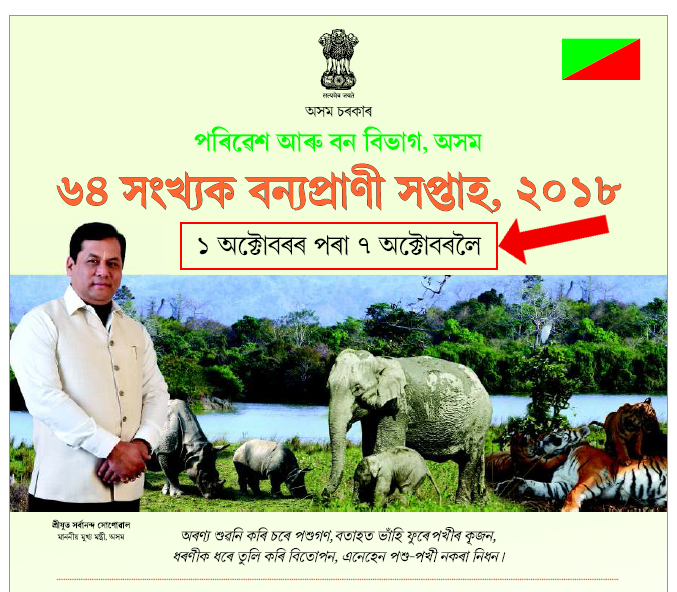 It may be recalled that the Assam Government issued a full-page advertisement, featuring a smiling State Chief Minister Sarbananda Sonowal with the pride of Assam – the one-horned rhinos and other wildlife, (see picture) in all major dailies of the State on Monday (October 1, 2018) stated that Wildlife Week is from October 1 to 7.
Whereas, Wildlife Week is celebrated across the country from October 2 to 8 every year.
Also read: Assam Government mess with wildlife week promotion
Though in the Children's Day advertisement, the date has been mentioned as November 14, 2018, eyebrows are being raised as to why it was published on November 13.
Now it remains to be seen whether it was indeed an immediate urge of the Bharatiya Janata Party (BJP) led government to pay its tribute to the first Prime Minister of India or the utter foolishness and ignorance of the media managers.