Tribal Cooperative Marketing Development Federation Ltd (TRIFED) of the Union Ministry of Tribal Affairs is hosting 'Aadi Mahotsav' from Friday.
The 10-day national tribal festival, will be held at the Gandhi Mandir Indoor Stadium Field, Guwahati.
Theme of the festival is 'A Celebration of the Spirit of Tribal Craft, Culture, Cuisine and Commerce'.
The festival will feature exhibition-cum-sale of tribal handicrafts, art, paintings, fabrics, jewellery, tribal cuisine at more than 70 stalls. It will be inaugurated by Chief Minister Sarbananda Sonowal tomorrow.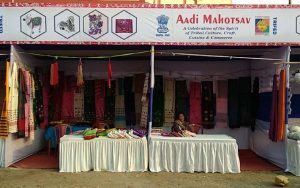 Assam Chief Minister Sarbananda Sonowal will inaugurate the festival at 6pm on Friday while State Forest Minister Pramila Rani Brahma will attend the inaugural event.
TRIFED MD Pravir Krishna said artistes and artisans from over 20 states, including Chhattisgarh, Madhya Pradesh, Odisha, Himachal Pradesh, Jammu & Kashmir, Rajasthan, Gujarat, Andhra Pradesh, Karnataka, West Bengal and the NE states will participate in the event.
TRIFED is a central agency under the Ministry of Tribal Affairs, primarily engaged in the development and marketing of tribal products like handicrafts, textiles, jewellery, paintings, natural and organic products.
It aims to improve the livelihood of indigenous communities by creating a sustainable market and business opportunities for them based on their culture, knowledge and traditional skills while ensuring fair and equitable remuneration.