The alliance led by the Nationalist Democratic Progressive Party (NDPP) has given tough fight against  ruling Naga People's Front (NPF) and its allies.
At 2.30 pm on Saturday, the NPF won 11 seats and led in 12 seats, while the NDPP-BJP alliance bagged three seats and led in 13 seats.  The Nationalist Peoples' Party (NPP) has led in three seats.
The NDPP is in alliance with the Bharatiya Janata Party, which  ended its 15-year-old alliance with the ruling Naga People's Front after three chief ministers were elected in the five years of a dysfunctional government.
Meanwhile, the NPF has been bogged down by anti-incumbency, infighting and the exit of former Chief Minister Neiphiu Rio and former Home Minister Y Patton.
The NDPP-BJP alliance has an edge over the NPF in Nagaland, according to the C Voter exit poll – the alliance may win 25 to 31 seats, and the NPF may secure 19 to 25 seats.
Former Chief Minister Neiphiu Rio was one of the most high-profile names to switch sides ahead of the Assembly elections as he quit the ruling Naga People's Front and joined the newly floated NDPP.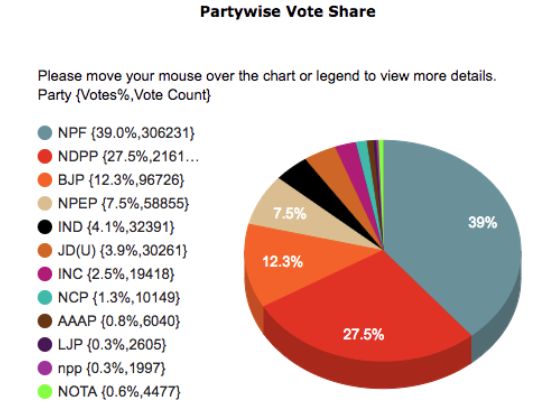 Rio won the election from Northern Angami-2 unopposed after the opposition candidate – Chupfuo Angami of the Naga People's Front – dropped out of the race.
Apart from Rio, former Home Minister Y Patton and former Chief Minister KL Chishi were the other big names to change their political allegiance and join the Bharatiya Janata Party.
Patton, who quit the Naga People's Front, seemed comfortably placed against the Naga People Front's Yankithung Yanthan, leading by 1,632 votes from Tyui.
Chishi, who was one of the richest candidates in the fray and made his career with the Congress, lost to Naga People's Party candidate Picto from Atoizu.