More than 72% polling was recorded in the by-poll to Nagaland parliamentary constituency held across the state amid tight security with reports of proxy voting on Monday. The voting started at 7am and ended at 4pm. The counting of votes will be done in 13 counting centres in the state from 8 am on May 31.
Addressing a press conference in his office conference hall in Kohima after the polling, Nagaland commissioner and returning officer for the by-poll Motsuthung Patton said the overall percentage of voters turnout was projected at 75% at 7 pm. He said the polling was by and large peaceful across the state.
He said the exact figure of polling percentage will be updated by midnight or by Tuesday, adding the overall voter turnout was higher than the state average this time.
On reports of repolling in 17 polling stations, 16 polling stations in Meluri sub-division under Phek district and one in Kohima, the RO said the information on repolling in these polling stations will be known only after scrutiny.
Patton said all necessary arrangements have been made for the counting e-postal ballots for government servants and that an observer has already arrived for the purpose.
Regarding reports of an incident that happened at Kubza polling station number 13 under Aonglenden Assembly constituency in Mokokchung district, the RO said the matter has been forwarded to Election Commission of India for repolling.
Around 20,000 security personnel were deployed for the by-poll in all the polling stations in the state.
Barring a few stray incidents in some parts of the state, the polling was by and large peaceful. The ruling People's Democratic Alliance (PDA) has fielded its major alliance partner Nationalist Democratic Progressive Party (NDPP) member and former minister Tokheho Yepthomi while Opposition Naga People's Front (NPF) put up former parliamentary secretary in the seat.
According to observers, the by-election is a straight close contest between the NDPP and NPF candidates.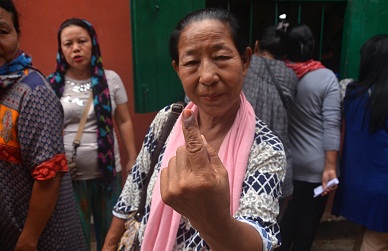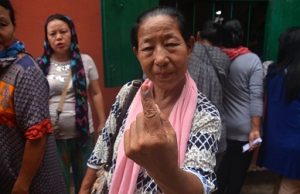 In polling station number 35 at Purana Bazar here, a polling agent belonging to NPF damaged an EVM by throwing a chair on it after opponent NDPP members stopped him from collecting voter slips to enable his party members to cast proxy votes. However, the EVM was replaced with a new one and polling continued uninterrupted later.
A police officer present at the polling station said the polling agent who also broke a window pane that left a deep cut in his hand was sent for medical examination. He would be arrested, the Nagaland Police Service officer said. Dimapur deputy commissioner and commissioner of police visited the police station to take stock of the situation.
Damage EVMs was reported at Kubza under Mokokchung district.
Altogether there are 11,97,436 electorate, comprising 6,07,589 males and 5,89,847 females, in the state. The polling was conducted in 2196 polling stations, out of which 260 were declared as critical and 211 as vulnerable, while rest as normal polling stations. There were 253 all-women polling stations.
Two polling stations under Wokha district were manned by differently-abled polling personnel.
Live web screening was done in 225 polling stations while offline videography was done in 257 polling stations.
A total of 3196 EVMs and 3075 VVPAT machines were used during the polling in all the polling stations.