Narcotic Affairs and Borders (NAB) of Manipur Police department on Friday arrested four persons including a Myanmar national along with one kilogram of contraband heroin number 4 worth Rs 1 crore.
"They were arrested from a rented house in Nungourok village under Tengnoupal district," Superintendent (NAB) W Basu of Manipur Police department said. One Maruti Alto car (MNQ5A-5703), one motorcycle without any registration number and four mobile phones along with sim cards were also recovered from the arrested persons. Of the four arrested persons, three came to buy the drug.
The arrested Myanmar national has been identified as Aung Pyi (50) son of Chit Aung of Kachin State, Myanmar while the three buyers are 3rd Indian Reserve Battalion personnel Mopung Khulpuwa (32) presently staying at Khukandang Pallel who hails from Kambang Khullen Tengnoupal district, Theophilus Kabai (40)of Hunbung Ukhrul district and Heram Inao Meitei (48) of Bamon Kampu in Imphal East district.
In yet another development, troops of 11 Assam Rifles on Thursday apprehended one 46-year old smuggler and seized precious gemstones from his possession at Moreh.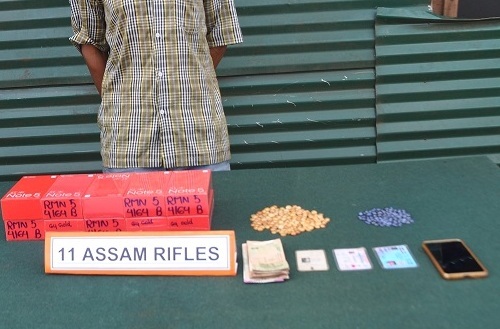 The arrested person is a resident of Senapati District in Manipur.
"Acting on a tip off on May 24 regarding movement of  contraband items in a Maruti Eeco Van (MN 01G-9056) from Moreh to Imphal, a Mobile Vehicle Check Post was activated near KLP location at Moreh. At around 9.40 in the morning the vehicle reached the Check Post and the team of 11 Assam Rifles stopped it. On checking the vehicle, 103 Blue Sapphire stones (approximately 75 grams) and 148 Yellow Sapphire stones (approximately 275 grams) were found concealed in the vehicle," PRO Assam Rifles (South) stated in a press release.
The individual and recovered items were handed over to Customs Preventive Force stationed at Moreh, a border town about 110 km south of Imphal.