The research scholars of Indian Institute of Technology (IIT) Guwahati, continued their protests for the fourth day on Monday, demanding hike in fellowship.
The Government of India had earlier stated the fellowships for research scholars would be increased periodically (every four years). As per assurance, it was supposed to be increased by April, 2018. But after 8 months of the assurance, the research scholars are yet to get justice.
The scholars of IIT Guwahati organized a candle march from Central library to the Admin building from 5:00 pm to 7:00 pm on Monday, at the campus. There was a good participation at the candle march and resentment was visible. The undergraduate students also extended their support in the candle march.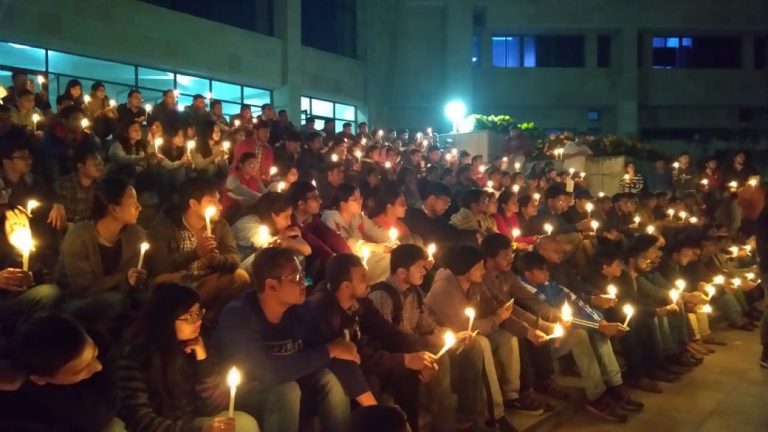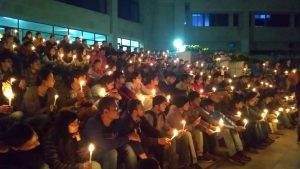 The march started from the Lakshminath Bezbaroa Library at 5:00 pm IST. The support of the few faculties of the institute in protest further backed the enthusiasm of the students.
They stated that "after the involvement of police force on January 16, 2019 silent protest in Delhi, the scope of protest cannot just be limited to the students. It was an insult to the scientific community of India. The makers of the nation should be respected and honoured!"
The students and faculties wearing institute hoodies, a black ribbon on the head, and candle in their hand, marched from library to the administration building.
All the centrally funded research institutes (CFTIs) earlier conducted a signature campaign in the month of November 2018. The signatures with a cover letter was either forwarded by the head of institute or the student bodies forwarded the letter directly to MHRD. The representative of researchers at New Delhi stated "it is hard to believe the working of MHRD and attitude towards the nurturing scientist of the nation".
Sources stated that the government will release the notification of hike in fellowship soon, but the research scholars all-round the country in unison, stated that "Until the official notification is released, we are not going to stop!"
A national level meeting was conducted on January 20 with student representatives of all IITs/IISc concluded that they would continue to protest using social media, postcard campaigns. Also, planning of a relay hunger strike by all the IITs/IISc starting from a fixed date is under process.
The representatives at IIT Guwahati firmly stated that the agitation will continue till the hike in fellowship is confirmed by the government of India. The protest in synchronization with all the CFTIs will continue on daily basis
The administration of all the IITs, NITs and research labs are under pressure; it was made very clear that if all the scholars started to boycott their duties, and come out on roads to demand rather than silently working in lab, it won't be possible to run a single class.