The Nationalist Peoples' Party (NPP) is likely to form the next government in Meghalaya as United Democratic Party (UDP) has reportedly decided to extend support to the Conrad Sangma-led party.
The hope of ruling Congress, which emerged as single largest party with 21 seats, to form government for third consecutive term, is almost over as NPP chief Conrad with its MLAs met Governor Ganga Prasad this evening and staked claim to form the government in the hill state.
As per report a team of 34 newly elected MLAs belonging to UDP, PDF, HSPDP and BJP besides NPP led by Conrad met the Governor to stake claim for the government formation.  BJP's northeast strategist Himanta Biswa Sarma also accompanied them. 
Since election to one seat was cancelled due to the death of a candidate, the majority mark in the 59-member house is 30 legislators.
Sarma later tweeted over the development.  "Happy to share that 34 newly-elected members belonging to NPP, UDP, PDF, HSPDP, BJP and one independent member are meeting the Governor to stake claim to form government in Meghalaya. Conrad Sangma will be the leader of this coalition," Sarma tweeted.
The new cabinet is likely to take oath on March 6.
Conrad, who is a probable chief ministerial candidate of NPP-led alliance, in a tweet said, "The next two-three days are very crucial because the assembly's term will end. The house expires on March 7. Before that, everything has to take place and by tomorrow everything will be clear."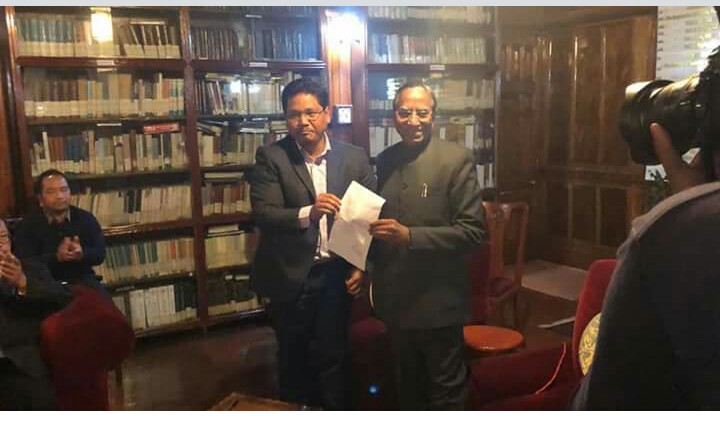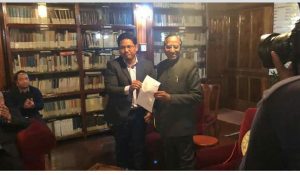 "It's positive that regional parties got together to work for the region. It's people's decisions and we need to respect that," MoS for Home Kiren Rijiju tweeted.
With voters of Meghalaya returned a hung house, all eyes were on the United Democratic Party (UDP) that won six seats in the polls.
Both incumbent Congress and Nationalist peoples' Party (NPP), which emerged as second single largest party with 29 seats, were in touch with Dr Donkupar Roy–led UDP.
Congress, which fell short of nine members, also met the Governor on Saturday night and staked claim to form the government.
NPP, a part of BJP-led Northeast Democratic Alliance (NEDA), which emerged as the second largest party with 19 seats, is backed by the saffron party and played a key role in bringing the UDP into NPP's fold for formation of the government.
The BJP's Northeast strategist Sarma – who has been camping at Assam House in Shillong, reportedly held meeting on Saturday night with the UDP chief, where NPP president Conrad was also present.
As per report, Sarma held another meeting with Roy today at his residence, after Chief Minister Sangma had come out from the latter's residence.
Chief Minister Sangma, who met Roy at his residence, attempted to ensure support from UDP MLAs, but failed.