Meghalaya's ruling National People's Party (NPP) candidate Marcuise Marak won the Williamnagar adjourned elections in the State.
Former MLA and NPP leader, Marcuise N Marak secured 9,558 votes while Independent nominee, Sengbath R Marak came second with 4,698 votes.
Former Education Minister and sitting Congress MLA, Deborah C Marak was brought down to third position and polled 4,517 votes.
The NPP's victory came as a blow to the Congress which was hoping of strengthening its position in the Assembly.
The win has further strengthened the position of the NPP which has now increased its strength from 19 to 20 members in the 60-member Assembly.
Polling of Williamnagar adjourned elections was held on April 27 last that recorded 78.82 per cent voters' turn-out.
The election to Williamnagar was countermanded following the killing of Nationalist Congress Party (NCP) candidate Jonathone N Sangma on February 18 last just ahead of nine days of the scheduled polling on February 27 last.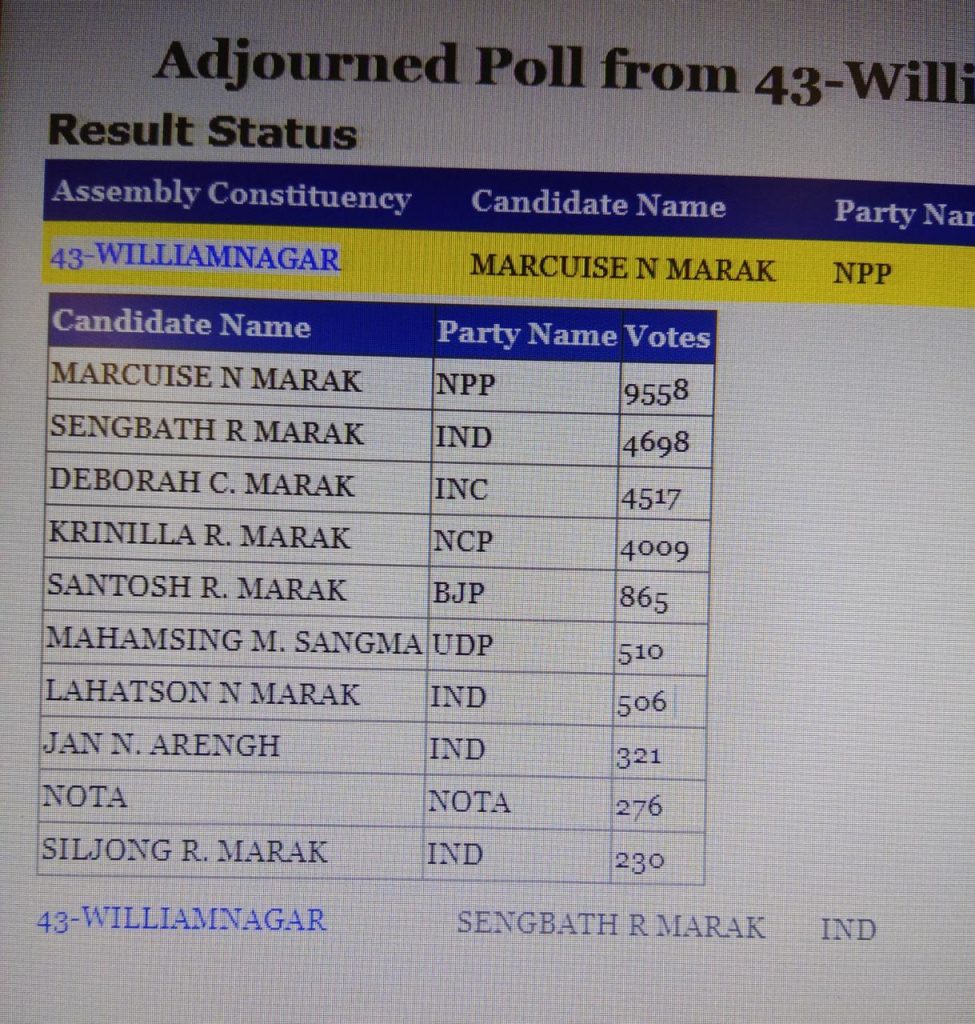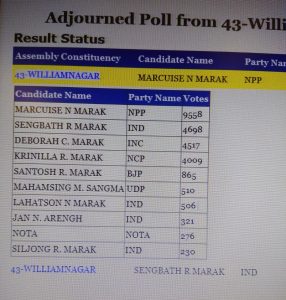 Suspected Garo National Liberation Army (GNLA) rebels had shot dead NCP candidate Jonathone N Sangma along with two security personnel in Williamnagar on that fateful day.
Sangma along with two PSOs were gunned down by suspected rebels at around 7.50 pm on that day at Samanda when he was returning to Williamnagar in a Scorpio from Sobokgre area in Meghalaya's East Garo Hills district after election campaign.
The militants first triggered an IED blast, and then opened fire on the Scorpio in which Sangma with two PSOs and two villagers were travelling.
In 2013 election, Jonathone had lost to sitting legislator Deborah C. Marak.
The NCP had fielded his wife, Krenila Marak as the party candidate.
The other candidates in the fray were United Democratic Party (UDP) candidate Mahamsing M Sangma, Santosh R Marak from Bharatiya Janata Party (BJP) and four Independents – Sengbath R Marak, Lahatson N Marak, Siljong R Marak, and Jan N Arengh.