The Meghalaya Legislative Assembly on Wednesday held a lengthy deliberation on the crying need to ease the menace of traffic congestion in Shillong.
State Home Minister James Sangma told the House that around 1.7 lakh vehicles pass through Shillong at a peak period and on a normal day, the number of vehicles plying on the roads of Shillong is around 93,000.
While assuring the House that the traffic wing of the State Police Department is doing everything to ease the congestion, the Home Minister said that the volume of intra city movement has increased despite the sizeable traffic along the Shillong bypass.
While apprising that entry of trucks into the city has also been regulated, Sangma added that measures like imposing one way entry and other initiatives are also being undertaken by the traffic police.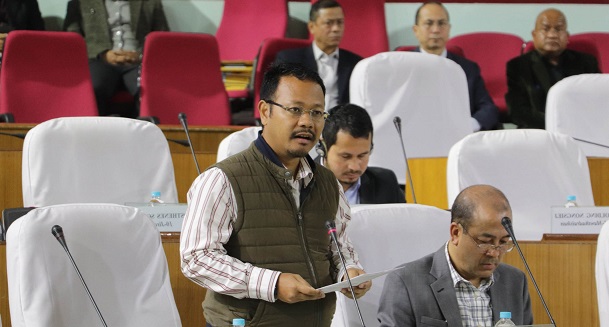 He also said that 22 flying squads are also in operation moving around different areas of the city to regulate traffic.
Taking part in the discussion, Congress MLA from Nongpoh, Mayralborn Syiem lamented that public buses and taxis in the town halt anywhere and everywhere which often leads to traffic snarl.
He also suggested the need to construct a bypass even on the western side of the city.
Congress MLA from Umroi, George Lyngdoh said that the defence authorities have occupied huge chunk of land in the city and urged the State Government to negotiate with the defence authorities to get back the land.
Congress MLA from Mawsynram, HM Shangpliang said many times even ambulances are found to be stuck in traffic snarl in the city.
Calling for a holistic approach on the issue, Shangpliang urged the government to engage consultants to study traffic snarl in the city and come out with measures to ease the congestion.