Is democracy in peril? Meghalaya Assembly election has raised this pertinent question. The list of candidates speaks volume about dynastic politics in the state. It apparently shows all about empowering the family and ruling the state. Dynastic politics seems to shape democracy in the state.
Look at the who's who in the list of various political parties. Let's begin with Chief Minister Mukul Sangma. Following intense BJP campaign Mukul Sangma is hard-pressed to maintain the winning streak for his party. So is his near and dear one. Mukul is contesting from two seats – Ampati and Songsak. His family members are contesting from three other constituencies. His wife Dikkanchi D Shira is a Congress candidate from Mahendraganj.  His legislator brother Zenith is also contesting from Rangsakona to retain his seat. And if Dikkanchi gets Congress ticket, can Zenith's wife Sadhiarani M Sangma be far behind? So she is also contesting from Gambegre. Mukul Sangma was reportedly under intense pressure from his brother Zenith to allot party ticket to Sadhiarani. Sadhiarani was a member of Garo Hills Autonomous Council.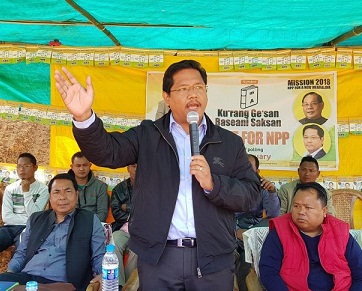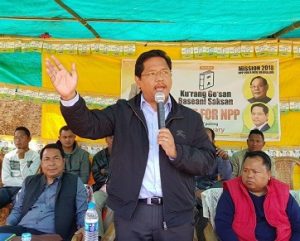 Former Lok Sabha speaker Late Purno Agitak Sangma's family is no exception. His son Conrad is now heading the National People's Party and an MP from Tura.  Conrad's brother James K Sangma is contesting from Dadengre and sister Agatha K Sangma from South Tura. NPP has also given ticket to both Conrad and James' common brother-in-law Sanjay A Sangma and fielded him against Mukul's wife Dikkanchi from Mahendraganj.
Wait the list does not end here with the Sangmas only. Proprietors of Dhar Construction company Ngaitlang Dhar, his brother Sniawbhalang Dhar, his son Dasakhiatbha Lamare and his brother-in-law Wailadmiki Shylla are also contesting with NPP tickets.
Uncle-nephew duo, Lamboklang Mylliem and his nephew Gavin Mylliem are also contesting with PDF tickets.
The above list is about family members contesting with the same party tickets.
There are others who are contesting with different party tickets. Grace Mary Kharpuri is contesting with PDF ticket while her husband Donkupar Massar is contesting with NPP ticket.
Another uncle-nephew duo Billykid Sangma and Adamkid M Sangma are contesting in this election. Billykid is a BJP candidate from South Tura and Adamkid is contesting as an independent candidate from North Tura.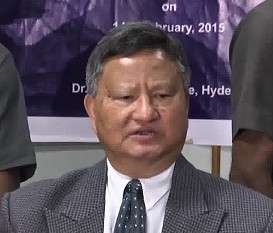 According to former Chief Election Commissioner of India Harishankar Brahma this trend is not desirable in a democratic system.
Talking to Northeast Now Harishankar Brahma said, "First thing, if the power is concentrated with few families definitely influence will be with few families. It is not a good sign for democracy. What will happen to others? When there is power there is money so it becomes a family business step by step turning into profession which is not good for the society and also for the interest of the state."
Former Meghalaya chief secretary Ranjan Chatterjee says Indian democracy is yet to fully come of age. He is hopeful that things will improve in the years to come.
Chatterjee told Northeast Now, "I don't think it is going to have an adverse impact on the democratic system. In due course of time when people are slightly more aware of their rights, democratic institution then it will not happen."
"Indian democracy is yet to fully come of age. It will undergo a change. I hope things will improve in the years to come," were Chatterjee's concluding lines.