Due to massive opposition from 21 local organisations against eviction drive launched on Saturday morning by the railway authorities at Bogapani in Digboi under Tinsukia district along the National Highway 38, the railway authorities had to halt the eviction for an indefinite period.
Protesting the unwarranted act of evicting the residences along the NH 38 stretching from Ramnagar to Tingrai, the protestors belonging to several organizations, who took to the streets, alleged that the railway authorities didn't serve any prior notice to the occupants regarding the eviction drive.
The organisations also alleged, "The forces involved in the eviction process including officials of Tinsukia Railway Division defying the formal intimation of the district administration of Tinsukia were indifferent  towards the plight of the residents and were driving hard to evict the so-called railway land inhabited by people of different communities since years."
Meanwhile, resenting the act of the railway authorities, the aggrieved local residents supported by 21 various local organizations and associations resorted to road blockade at Bogapani for several hours shouting slogans against Sarbananda Sonowal-led government in Assam and the railway authorities for miserably failing  to ensure 'Jati-Bheti, Mati' for the indigenous people of Assam.
The organisations also urged Union Minister of State for Railways Rajen Gohain to resolve the deadlock immediately and otherwise threatened to march to Dispur for their rights. According to the protestors, the officials at Northeast Frontier Railway (NFR) headquarters, Maligaon, too expressed ignorance of any official intimation to this effect terming it 'presently no eviction project is officially undertaken in Digboi area'.
It is pertinent to add that the District Magistrate of Tinsukia in a formal communication to the Divisional Railway Manager at Tinsukia through a letter (no TCA.15/2001/344) dated March 9, 2018) while terming it 'necessary' to carry out the eviction drive in the areas encroached upon, urged the railway authorities to defer the operation in view of prevailing law and order situation and ongoing NRC works.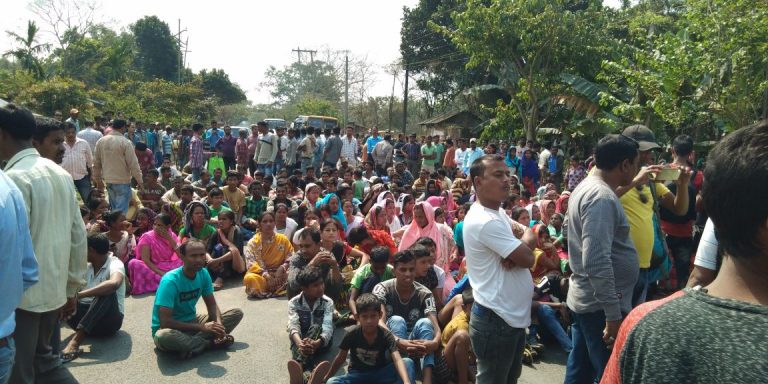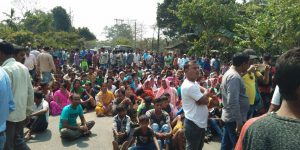 Meanwhile, due to accumulating common sentiments of the aggrieved protestors on the road and conditional support of the civil administration, the railway authorities had to halt the eviction drive.
On the other hand, an NFR official at Tinsukia told this correspondent that huge lands belonging to the Railways have been encroached in Bogapani belt and the eviction is inevitable sooner or later.
"We acted officially without being prejudiced and to free the encroached land of the government. We have no option but to generate desirable output whatsoever including rehabilitation which the district administration and other relevant departments will look into," he added.
However, the hours of agitation on the National Highway caused traffic nuisance in the area crippling the vehicular movements and hitting the normalcy for long. Several hundreds of vehicles had to remain stranded on both the ends of the road due to the protest.