Former Manipur chief minister O Ibobi warned the government that unwanted situation might arise if the framework agreement leaves provisions for destroying the territorial and emotional integrity of the state.
He said the people of the state cannot believe in the assurance given by Prime Minister, Narendra Modi that the framework agreement will not affect the territorial integrity of the state as the contents of the framework agreement is still kept secret.  He said several times the BJP has backtracked from its promises made during the election campaign.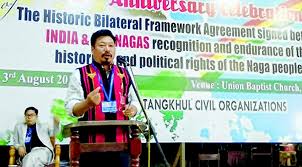 He was addressing a crowd during a sit-in protest demanding disclosure of the framework agreement between the central government and NSCN-IM today at Loukham Leirak community hall, Sagolband Tera organised by Patsoi Block Congress Committee on Saturday.
Ibobi accused the BJP of using the NSCN-IM to win the election by letting the NSCN-IM's frontal organisation UNC call an indefinite blockade.
Former Manipur deputy chief minister, Gaikhangam said demanding disclosure of the contents of the framework agreement is the rights of the public and it is not a political issue created by Congress at all.