A landslide near Nagaland's state capital along the busy Kohima-Dimapur sector of the National Highway 29, the main life line of Nagaland and Manipur, has affected movement of Manipur bound supply trucks on Monday.
Also read: Nagaland: Road to Kohima gives up, sinks in incessant rain
Reports reaching Imphal said that many Manipur bound goods trucks are stranded along the hilly Nagaland sector of the highway after the landslide took place along the stretch of National Highway 29 below Avile petrol pump has completely cut off vehicular traffic which is located about 135 km north of Imphal due to incessant rain for the last few days.
In view of the development, light and medium vehicles coming from Kohima are directed to use Jotsoma village by-pass road while those from Dimapur to use Peducha to Chesama route, according to official sources.
However plying of all heavy vehicles on NH 29 to and from Kohima and Dimapur will be restricted till the cut off stretch of the highway is restored, said a traffic advisory note of the Nagaland authority.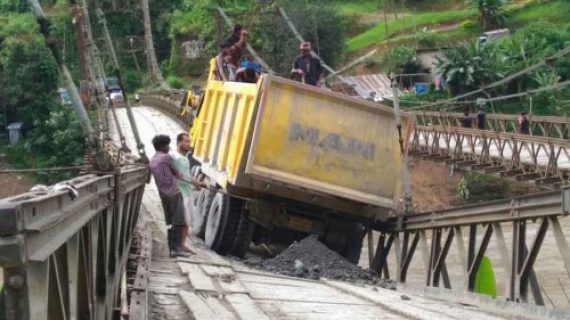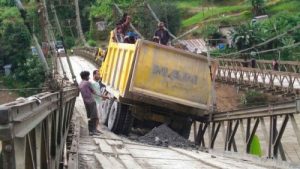 Meanwhile, the crucial Barak Bridge, located around 128 km west of Imphal along the Imphal-Jiribam sector the National Highway 102 has also been damaged on Sunday morning, cutting off land locked Manipur from rest of the country.
The incident took place when a loaded truck carrying construction materials for the railways passing through the new bridge around 11.30 am broke the bridge, sources reaching Imphal said.
As a result many Imphal bound goods trucks have stranded before reaching Barak Bridge as the light and medium vehicles are taking the old bridge located close to the new bridge, it added.
Barak Bridge is located in the hilly Tamenglong district of the State.
The concerned authorities are taking up restoration works on both sections of the two National Highways, reports added.